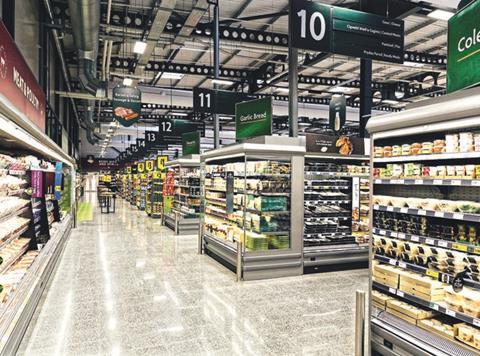 Supermarket prices are back in deflation for the first time in almost two years.
The Grocer Price Index, collated by Brand View from over 64,000 supermarket SKUs, found that overall supermarket prices dipped 0.1% year on year during October – the first month of annual price declines since January 2017.
Grocery inflation jumped to a high of 2.7% in November 2017 as retailers and suppliers passed on higher cost inputs stemming from the post-Brexit decline in the value of the pound.
However, the annualisation of those cost increases and the continued competitive UK grocery environment has seen inflation steadily fall in 2018, dropping to zero in August and 0.1% in September.
The previous period of supermarket deflation, which began in earnest in July 2014, lasted for over two-and-a-half years and hit a peak of 3% in March 2016.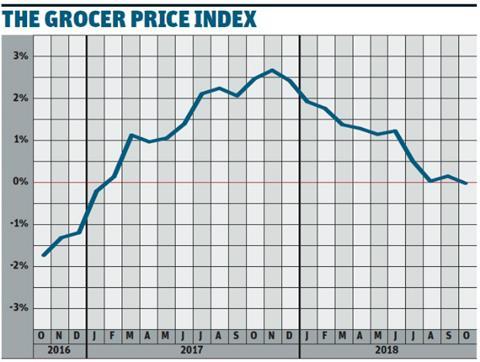 Three of the big four posted lower year-on-year prices last month, led by Tesco, which recorded a 1.2% drop in annual prices having first entered deflationary territory in August.
Tesco had recorded the highest level of inflation across the big four every month for a calendar year until its price inflation fell back in the summer.
Prices fell 0.4% year on year at Sainsbury's during the month, which marks the fifth time in seven months the supermarket has recorded price deflation.
Asda's 0.1% deflation was the first time it recorded a year-on-year price drop since January 2017.
However, these price declines were not universal.
Waitrose, not included in the overall GPI figure, saw annual prices rise 1.1% in the month, which was its highest annual inflation since January 2018.
Annual inflation at Morrisons also rose sharply, from 0.4% in September to 1.9% in October – its highest since May 2017.
In some categories, such as health & beauty, Morrisons is now selling online-exclusive items that are typically more expensive lines listed by its online delivery partner Ocado, the inclusion of which may be a contributor to its highest level of average year-on-year prices.
Cost input pressure also remains intense on the supermarkets despite the lowering of shelf price inflation, given the continued relative weakness of the pound and pressure from rising wage costs.
On Thursday, Sainsbury's said it expected to post cost inflation of around 3% in its 2018/19 financial year, but is trying to mitigate that through £200m of cost savings rather than relying on price inflation to mitigate these pressures.
Across this month's GPI, nine of the 14 categories were in year-on-year deflation last month. The biggest deflation was seen in deli, which fell 4.7%, followed by dairy (–1.8%) and meat, fish and poultry (–1.7%).
Inflation in soft drinks remains notably higher than other categories at 3% driven by the advent of the UK sugar levy earlier this year.
Overall GPI prices were down 0.6% month-on-month from September to October, led by a 2.5% drop in alcohol prices and a 5% price decline for deli.