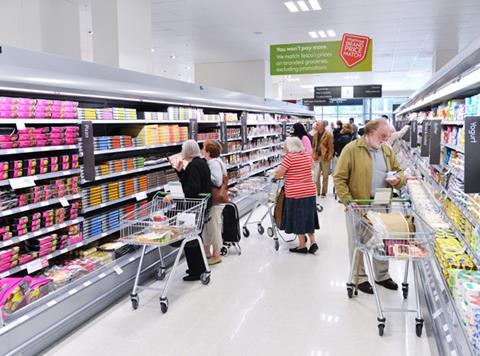 Supermarket inflation is now at its highest level since Christmas 2013 as shelf prices have risen to reflect markedly increased input costs.

The Grocer Price Index, collated from over 60,000 individual supermarket SKUs by Brand View, shows annual inflation for the month to 1 April standing at 1.4%. That represents the highest grocery inflation since the month to 1 January 2014, when prices were up 2.1% year on year before deflation first hit in the month to 1 June 2014.

The latest GPI marks a 0.9 percentage point jump in inflation since the 0.5% annual price rise recorded in the month to 1 March. Deflation has been falling back ever since the month to 1 June 2016 to move into inflationary territory last month.

This month the biggest price jump was recorded in alcoholic drinks, which was up 3.4% year on year compared with inflation of 0.9% the previous month.

The other most significant contributors to annual inflation are baby goods (+2.3%), chilled (+1.7%), and meat, fish & poultry (+1.7%) - the latter having dramatically risen from annual category deflation of -4.8% just five months ago.

Four of the GPI's 14 categories remain in deflationary pricing territory, with prices continuing to modestly fall in deli (-1.2%), soft drinks (-0.9%), health & beauty (-0.8%) and household goods (-0.5%). Of those, only soft drinks experienced a higher level of annual price cuts than in the previous month.

Each of the big four is now firmly in price inflation, with Morrisons' annual price increases the most marked. The Bradford grocer's overall prices were up 2.6% on an annual basis last month compared with just 0.3% the previous month.

Price movement at Waitrose, not included in the official GPI calculation, was almost as dramatic, with annual inflation of 2.1% compared with 0.1% the previous month.

Tesco continues to see the lowest level of annual inflation, standing at 0.7% in the month to 1 April. Annual prices are up 1.8% at Asda and 1.2% as Sainsbury's.

All five supermarkets saw an increase in their rates of inflation last month.

Month-on-month basis prices were 0.8% up in the period, with the biggest monthly increases seen in deli, bakery and dry grocery.

While inflation is being partly driven by higher pack prices, a significant driver of the increase in GPI is the significant fall in the proportion of items being sold on promotion.

Nielsen found this week that during the four weeks to 25 March, just 26% of spend at UK supermarkets went on products with temporary price cuts or multibuy offers, the lowest level since 2006.

Food prices are likely to continue on a rising trend as the UK Consumer Price Index was running at 2.3% in March, suggesting grocers have so far been reluctant to pass on the full costs of general inflationary pressures to consumers.