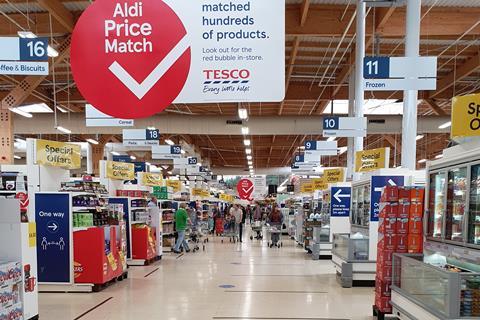 The lockdown-driven spike in supermarket inflation dramatically fell back in July as the major grocers fired the first shots of a post-Covid price war.
The Grocer Price Index, the monthly measure of supermarket inflation collated by Edge by Ascential from more than 60,000 SKUs, showed price inflation falling to a six-month low of 0.4%.
This represents a sharp reversal of the shelf price hikes in the early weeks of the coronavirus outbreak, when annual inflation ran at 2% in April and 1.6% in May.
During lockdown, a fall in the number of promotions helped drive a short-term inflationary spike, as supermarkets prioritised supply over sales volumes.
The steady rise in promotions has helped depress inflation, but supermarkets have also started taking action on price as they prepare to operate in a coronavirus-driven recession.
Tesco has launched a major new price war against the discounters and saw its annual level of price inflation fall to just 0.1% in July from 1% in June.
However, the price restraint was wider than Tesco alone, with Morrisons dropping into annual deflation for the first time since April 2018 as annual prices fell by 0.4% in July.
Price inflation at Asda eased from 1% to 0.4% and Waitrose, not included in the headline GPI figure, saw price inflation fall from 0.8% to 0.3%.
Sainsbury's, which had been the lowest raiser of prices of the big four for the first four months of 2020, saw inflation tick up from 1.1% to 1.2% in July.
Siobhan Bentley, lead analyst for Retail Economics, suggested the reversal of the dramatic drop in promotions had helped prices fall back into line with pre-COVID 19 levels.
However, she also suggested that weak input inflation, particularly the slump in global oil prices, had helped limit inflation passing through to shoppers. "There's little pressure in the supply chain with both input and output producer prices residing in negative territory," she noted.
On a category basis household goods (-0.8%), dairy (-0.6%), fruit and vegetables (-0.2%) and alcohol (-0.1%) all moved into negative inflation during the month.
The highest levels of inflation remain in frozen goods (2.4%), health and beauty (2.2%), soft drinks (1.6%) and the GPI's largest category of dry grocery (1.4%).
On a month-on-month basis overall prices were down 0.1%.