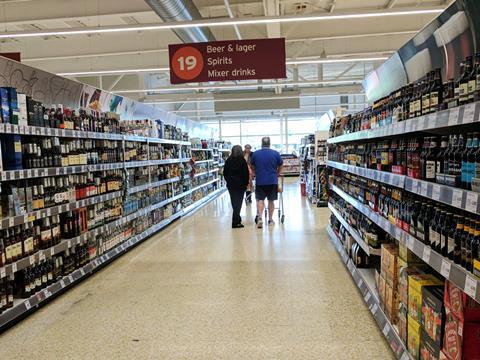 Price cuts across almost 1,000 items have driven Sainsbury's into annual price deflation - the first supermarket to record a year-on-year price drop for over 12 months.

The Grocer Price Index, collated by Brand View from around 60,000 individual SKUs across the big four supermarkets, shows Sainsbury's recorded year-on-year deflation of 0.9% in the month to 1 April after instigating a swathe of price cuts in May.

The supermarket pledged to invest £150m to cut the price of 930 "everyday grocery products" from 21 March - a move that helped cut its annual rate of price inflation by 1.6 percentage points from 0.7% in the month to 1 March.

This marks the first time one of the big four recorded annual price deflation since the month to 1 February 2017 and is Sainsbury's first month of deflation since January 2017.

The supermarket's rate of annual price inflation was as high as 2.1% as recently as the month to 1 November 2017.

The Sainsbury's cuts look to have had an immediate impact on its annual price movement, but the wider industry is also experiencing a marked decline in the level of inflation after prices surged last year.

The overall GPI contracted by 1.2 percentage points from 2% to just 0.8% in the month to 1 April - the lowest overall GPI figure since March 2017 and down from a peak of 2.9% in October.

Prices at Morrisons and Waitrose are almost exactly the same as a year ago, both recording flat inflation year on year having peaked at 2.8% and 2.7% respectively in autumn last year.

Tesco continues to display the highest level of inflation across the mults, as it has done every month since August 2017.

However, Tesco recorded annual price inflation of 2.6% in the month to 1 April having hit a five-year inflationary high of 4.1% in the previous month.

Asda's rate of annual price inflation stands at 0.7%, which is its lowest since June 2017.

On a category basis, eight of the 14 GPI categories were in deflation at Sainsbury's during the month, led by health & beauty (-3.1%), household (-2.5%) and soft drinks (-2.2%).

On a monthly basis, Sainsbury's overall prices were down 1%, with those categories targeted by its price cuts such as household (-3.3%), fruit & veg (-2.5%), dairy (-2.5%) and dry grocery (-1.5%) leading the way.

Overall, three of the GPI's categories recorded price in deflation. Notably, considering the introduction of the sugar tax this week, soft drinks led the way with industry-wide price cuts of 1.7% followed by alcohol (-0.9%) and health & beauty (-0.7%).

On a two-year basis, the post-Brexit wave of price inflation means current prices are 2.2% higher than in April 2016. However, supermarket prices remain 3.7% down on the peak reached in the month to 1 May 2014 before the price war ushered in an era of deflation.