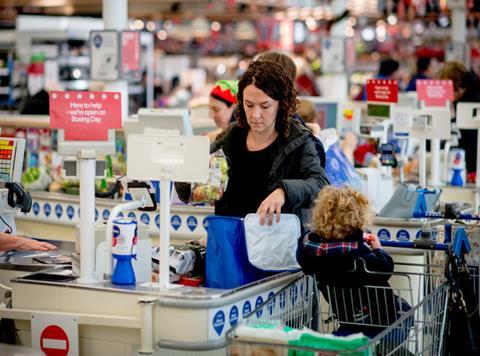 Supermarket price inflation has hit its lowest level for 18 months as the post-Brexit jump in grocery prices continues to stabilise.

The Grocer Price Index, collated by Brand View from over 62,000 individual SKUs across the big four supermarkets, fell back to just 0.3% in the month to 1 August from just over 1% in the previous month.

The latest data continues the trend of declining inflation since it peaked at 2.9% in the month to 1 October 2017. This time last year inflation was running at 2.4%. The last time the headline GPI rate was so low was in the month to 1 February 2017, when prices were down 0.04% year on year before surging into annual inflation.

This month's dramatic drop was primarily driven by Tesco returning to similar levels of price inflation to the rest of the industry. The UK's biggest supermarket's annual inflation fell to just 0.1% in the month to 1 August from 2.6% in the previous month. Tesco had posted annual inflation of 2.3% or over for the past year, peaking at 4.1% in the month to 1 March 2018.

This partly reflects the annualisation of a sharp escalation of Tesco's GPI inflation a year ago. Prior to this month, it had returned the highest level of price inflation across the big four in every month for the past year after its annual inflation jumped to 3.4% in the month to 1 August 2017.

Its drop in year-on-year price increases means the big four's annual inflation are more closely banded together than at any point over the past year.

Tesco's rate of annual inflation this month was fractionally above Sainsbury's, which also posted 0.1% price growth when rounded to a single decimal place, while Asda and Morrisons were at 0.5% and 0.6% respectively.

Waitrose, not included in the overall GPI figure, recorded inflation of 0.4% in the period.

Overall grocery inflation appears to have been suppressed by lower prices in non-food categories.

Among the GPI categories showing significant year-on-year price drops were household goods (-1.2%) and health & beauty (-1%).

The only other categories showing deflation were deli, the smallest of the GPI's 14 categories, with prices down 1.2%, and biscuits, confectionery and snacks (-0.1%).

Some key food categories remain in significant inflation, including dairy (+2.4%), bakery (+2.2%) and soft drinks (+2.9%), which remains in an inflationary spike after the introduction of the UK soft drinks levy.

However, annual inflation has also lessened in some of the former key category drivers of overall price rises. Meat, fish and poultry prices were up 5.5% year on year back in the month to 1 November 2017, but are now up just 0.5%.

Dry grocery, the biggest category in the GPI, was up 3.2% as recently as the month to 1 March 2018, but is now up just 0.4%.