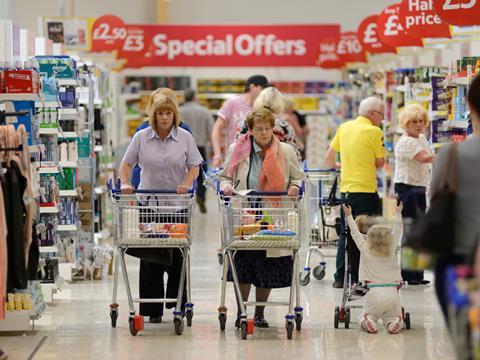 Supermarket prices bounced back into inflation in January after heavy discounting over the Christmas period.

The Grocer Price Index, collated by Edge by Ascential from more than 6,4000 individual SKUs, moved back into annual inflation of 0.4% in January compared with a 0.4% price drop in December.

On a month-on-month basis, prices were up 2.7% averaged across the month compared with prices in December.

The overall GPI level of inflation is now back to its highest level since July 2018, having dipped into deflation for the past three months. December's 0.4% decline in year-on-year shelf prices was the biggest annual price drop since December 2016.

Three of the big four remained in annual deflation over the month, though deflation eased at Asda to -0.2% from -1.2%, at Sainsbury's to -0.1% from -1.1%. It remained flat at just under zero at Tesco.

Morrisons, which has shown the highest level of big four inflation for each of the past four months, was once again the notable exception. The supermarket recorded a 2.1% rise in annual prices - its highest annual price hike since April 2017.

Waitrose, not included in the overall GPI figure, also saw its rate of annual inflation rise to 0.7% in January from 0.5% through December.

On a category basis, the biggest annual riser was frozen goods (up 2.9%), followed by soft drinks (+2%) and bakery (+1.6%).

Meat, fish & poultry also bounced back into inflation having been the category in the biggest deflation in December. In January the category was up 0.9% year-on-year after being down 2.6% annually in December and down by 3.2% as recently as August.

The biggest deflation was in health & beauty (-1.8%) and household (-1.1%).

Just four of the GPI's 14 categories were in annual deflation in January, compared with nine of the categories in price decline in December.

Month on month across the big four, the largest increases were in alcoholic drinks (up 5.6%), frozen (+5.2%) and meat, fish & poultry (+3.5%).

The grocery industry defied the worst of the gloomy sales predictions over the Christmas period. Most grew festive sales at the top end of expectations driven by volume growth as they lowered prices to fight for market share.

The GPI data suggests the intensity of the investment in price has eased so far in the new year as the supermarkets refocus on clawing back some margin following the festive scramble.

According to the index, overall shelf prices are at their highest absolute level since April 2015, though they remain 2.1% lower than at the absolute peak of February 2014.