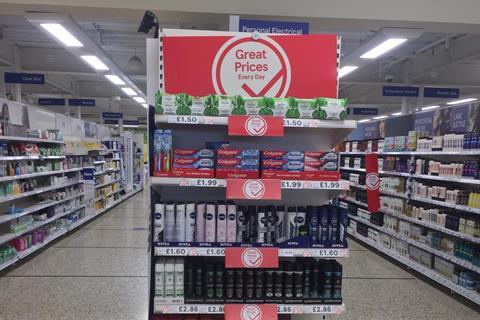 Tesco's drive to cut prices in the post-lockdown market has seen it move back into annual price deflation for the first time in almost a year.
The retailer posted an annual price decline of 0.5% in August across almost 17,000 SKUs reviewed by Edge by Ascential for the monthly Grocer Price Index.
The grocer's EDLP push has seen its level of annual price inflation fall dramatically from 2.6% in April and 2.5% in May, with just two of the GPI's 14 categories (health & beauty and soft drinks) still in inflation at Tesco.
August was the first month since September 2019 Tesco has recorded annual deflation.
Tesco's price cutting helped the overall GPI to an 11-month inflationary low of 0.3%, dipping further from the 0.4% recorded in July, having been over 2% in the immediate post-lockdown period of April.
The rest of the big four were in annual inflation, with Asda at 0.3%, Morrisons at 0.6% and Sainsbury's at 1%. Waitrose, not included in the overall GPI, posted an annual price rise of 0.5%.
The three GPI categories to see price drops were fruit & veg (–0.5%), biscuits, confectionery & snacks (–0.4%) and dairy (–0.2%).
Health & beauty was the category with the most significant inflation, at 2.4%.
Siobhan Bentley, lead analyst at Retail Economics, pointed out that "producer prices and commodity benchmarks remain in negative territory, meaning there is little upward pressure working its way through the supply chain as yet".
She also pointed to the continued return of promotions as a continuing factor suppressing underlying inflation as The Grocer and data from Assosia found the proportion of products on promotion had increased dramatically from its lowest level in early April, though retailers remain several percentage points away from normal levels.
However, the current post-lockdown low inflationary environment could be disrupted within months by the UK's exit from the EU, with widespread predictions of rising food prices unless a deal can be struck.
The Bank of England previously warned MPs that food prices could rise 5%-10% if there is no Brexit deal, while suppliers told The Grocer this week that a failure to reach a trade agreement with the EU would result in "frightening" price hikes on some foods, including fruit & veg, cheese and dairy products, and beef and pork.