British is best, especially when it comes to hot desserts. Traditional favourites such as jam roly poly, spotted dick and bread & butter pudding are steaming ahead, with sales of classic desserts up 20.9% on volumes up 13.4% [Kantar 52w/e 24 April 2016].

That's pretty impresive considering the performance of the wider hot desserts category: value is down 1.5% on volumes up 0.5%. It's also a marked improvement from a year ago when British favourites were falling out of favour, with sales down 4.8% on volumes down 7.6%.

So what's driving this renaissance in traditional puds? And what can the category's players learn from this success to drive the market back into growth?

"Consumers are seeking comfort from a more stable yester-year," says Marcus Freer, MD at SHS Sales & Marketing which owns Farmlea Foods. "It seems the days of exotic cheesecakes and salted caramel torte may be numbered as consumers return to old favourites such as rice pudding and fruit pie and custard to round off a special meal."

Like traditional puds, rice and sponge puddings are in value and volume growth driven by new launches, with premium and indulgent lines added. The bulk of this NPD came from own label ranges. "We identified that there was a huge amount of loyalty towards our own-label dessert range, which gave us the impetus to develop a hot desserts and puddings range," says Rebecca Stanton, senior buyer for ice cream and desserts at Iceland. "To create the new range we benchmarked, then improved on recipes to offer even better quality and value to our shoppers across a host of traditional options."

The Co-op is also targeting hot desserts with NPD. "This year we've seen a slightly weaker performance on hot eat product versus last year as our main focus has been around cold eat," says Leah Ellis, desserts buyer at the Co-op. "September will be the time to drive our hot desserts performance."

This drive will include inventive new lines in hot desserts aiming to pull in younger shoppers - a contingent she says has a lot of growth potential. As part of this, the Co-op sent product development staff on an innovation trip to the US last year after identifying a trend for American hot desserts. The resultant products will hit shelves next month.

"The US theme is a really strong trend at the moment within all sweet treats," says Co-op product developer Kevin Sargent. "Caramel flavours are coming through a lot, and that sweet and savoury combination is a huge trend at the moment. We've focused on developing products that play to this trend."

Spar, meanwhile, is launching three new desserts this autumn, including a hot sticky toffee pudding.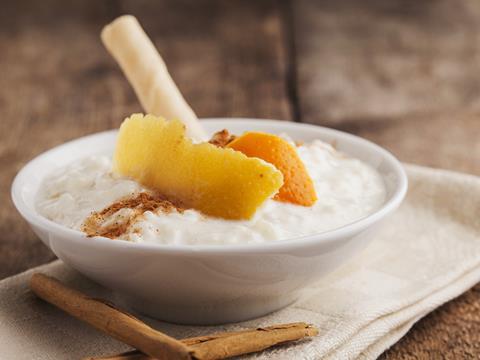 Hot desserts have declined in value by 1.5%, but volume has grown modestly. Cuts to average price and fewer households purchasing drove the value decline, as well as penetration losses.
There are some areas of growth, though, with rice and sponge puddings gaining value and volume.
Morrisons, The Co-op and Lidl had the strongest growth, while M&S and the indies suffered.
Own label and brands show distinctly different performances, as retailers focus on own-label ranges. There has been more NPD in own label, most notably in chilled traditional desserts and rice pudding with more indulgent and premium lines.
Asda introduced new lines in Baker's Selection range while Lidl Deluxe saw notable launches including hot desserts.
The balance of promotions will continue to be key, especially if increased TPRs continue as this will put pressure on overall average price and pull back value performance. A continued focus on own label will put the pressure on brands.
Lucy Simpson, Kantar Worldpanel

Brands fight back

Brands will need to fight back as own label prepares to up its game even further. The past year has seen branded hot dessert sales fall by 5.5% on volumes down 2.3%, while own label gained value and volume.

The two biggest players - Ambrosia and Aunt Bessie's - were hit the hardest with sales down £4.2m and £4.5m respectively [IRI 52w/e 20 June 2016]. But Aunt Bessie's marketing director, Lorraine Rothwell, notes pockets of success. "As well as the new and exciting products we introduced to the category last winter, namely our range of individual pudding pots, our hero hot desserts, such as Jam Roly Poly and Apple Pie, continue to be a hit with shoppers."

The individual pudding pots proved such a hit, they're getting a new variant in September (see box). Elsewhere, Aunt Bessie's is hoping to boost sales by including its hot desserts as part of its three-year sponsorship deal with ITV's I'm A Celebrity during the winter months. It is also undergoing a masterbrand redesign with the aim of boosting visibility in the hot desserts category.

In a heavily impulse-driven category, promotions remain crucial to driving sales, Rothwell adds. About half of hot desserts were sold on deal over the past year, and while this represents little change from the previous year, average prices have fallen 2.4% [Kantar]. "Increased temporary price reductions and less multi-buy promotions have played their part in driving average prices down," says Kantar analyst Lucy Simpson.
Mary Berry Chocolate Pudding

Launched: April 2016 
Manufacturer: The Hain Daniels Group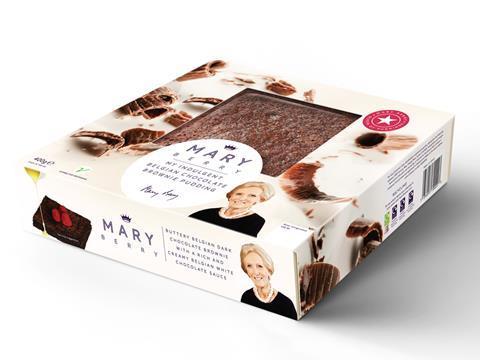 Baking legend Mary Berry uses family recipes as the basis of her first-ever range of desserts, which includes a Belgian Chocolate Brownie Pudding. It taps a desire for family puddings that look homemade for special occasions or a weekly treat. Although part of a chilled range, the pudding is best enjoyed hot. It's joined by a Luxury Summer Fruit Pudding, with further SKUs in the pipeline for later this year. Both are currently stocked at Ocado, Waitrose and Tesco at an rsp of £3.50 each.

Festive Plum Pudding

Launched: April 2016

Manufacturer: Cole's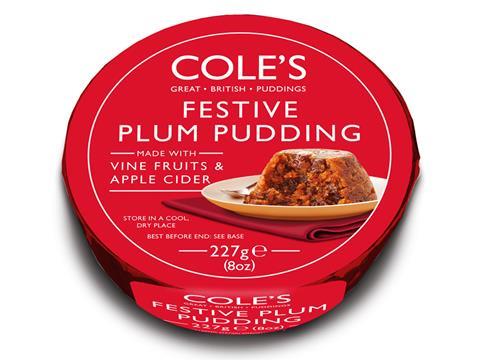 Festive Plum Pudding (rsp £3.99) is one of two new seasonal desserts specialist pudding manufacturer Cole's has brought out for Christmas 2016 alongside a Black Forest Christmas Pudding (rsp: £6.99). Made with vine fruits and apple cider, the plum pudding is for customers who fancy something slightly different.

Sticky Toffee Pudding

Launched: September 2016

Manufacturer: Spar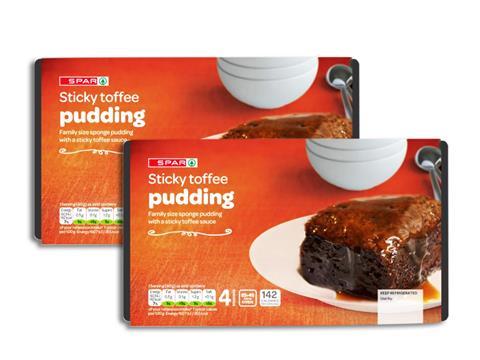 Spar is taking its first foray into own-label hot puddings with British favourite Sticky Toffee Pudding (rsp: £2.65), picking up on customers' changing desire for something warm as autumn approaches. With four servings per 400g pack (rsp: £2.65), the retailer is aiming to tap the family desserts market.

Raspberry Bakewell Pudding Pots

Launched: September 2016

Manufacturer: William Jackson Food Group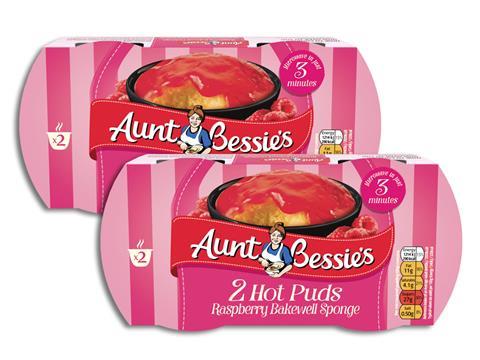 Building on the success of its individual pudding pot range, Aunt Bessie's is adding a new variant Raspberry Bakewell Sponge (rsp £1.50). The light almond sponge with raspberry sauce comes in packs of two microwavable pots, which Aunt Bessie's says meet customers' desire to shrink portion sizes without throwing away food.
Health

While impulse and promotions are the biggest factors driving consumer spending decisions on hot desserts, there are bigger elements at play, too. Uncertainty surrounding the Brexit vote has meant people are more than ever watching what they spend, according to Freer. "Consumers learnt hard lessons during the economic crash and these habits remain strong in their shopping behaviour with demands for choice, quality and value as strong as ever," he says.

Despite the high sugar and fat content of many items in the category, the desire for a treat with good quality ingredients seems to be increasingly overriding consumers' worries about the healthiness of hot desserts.

"There is perhaps a growing sense of perspective on the balance between a healthy lifestyle and the desire for a treat every so often," says Flower & White co-founder Leanne Crowther.

Brands and own label alike say they are incorporating more butter into their recipes - particularly in pastry and sponges - driven by a desire for quality and traceability, plus research showing saturated fats are less harmful than scientists previously thought.

Despite the positivity, a huge challenge is looming. Some experts believe consumer focus will continue to shift towards sugar, meaning desserts will face much scrutiny.

"The overarching focus on health has further impacted this category, with the reduction of sugar consumption high on the cultural agenda," says Kelly Harrington, marketing executive at Ardo UK, which supplies frozen fruit for branded and own-label puddings and has begun to see an uptick in the demand for unrefined sugar. "Vegan and gluten-free ingredients are also becoming more popular, with consumers looking to keep desserts limited to natural sugars."

With no sign of external factors abating, product performance in the next year could be down to doing away with tradition and throwing some surprises at consumers.