The big story in soup this year has been the battle of the brands versus own label. And it's a battle own label appears to be winning.

Following our prediction this time last year that Tesco's nascent New York Soup Co range might cause trouble for New Covent Garden (NCG), in October The Grocer revealed the retailer had axed NCG across its estate.

It was a little too late to be reflected in this year's Top Products figures, but even before the delisting, NCG was struggling, with value and volume sales down - despite sterling NPD including its Fresh Bowls (see below) and two packaging redesigns in 18 months.

Own label's growth can be attributed in large part to the success of its chilled offerings, including NPD such as Tesco's. Nielsen senior client manager Sophie Song adds that it has also recorded a "strong performance in standard ambient formats, particularly in Tesco and Morrisons".

Although it is not a threat to category leader Heinz, own label has outperformed brands such Baxters and Batchelors in ambient thanks to increased promotional activity - the big five ran 13% more deals on standard own-label wet ambient soup in the year to 13 October [BrandView.co.uk] - and a 7% hike in year-on-year listings (while those for major brands fell).

Batchelors has had a particularly torrid time at the hands of the multiples, with delistings halving sales of its condensed soup and losing its Slim a Soup 26% in value and 42.6% in volume. Even its standard Cup a Soup, which is clinging on to value growth, has dipped 6.2% on the volume front.

Baxters has also struggled, with all five of its top 20 lines in decline. That does not represent a significant change on last year's performance - aside from the fact that Deli Inspired, one of the fastest-growing lines last year, has slipped down three spots to 20. Baxters will be hoping its revamped range, rolled out in October with new recipes and packaging, can help turn things around.

Things are looking rosier for Heinz, which still dominates soup. At a time when brands overall are down in volume, its Classic range has grown volume sales at a faster rate than value, thanks, says Song, to deals including "long-term multibuys on its Classic range".

Campbell's, which re-entered the market in January 2011, is also steaming ahead: its core condensed line has ascended a whopping 18 places. Given that the brand also launched a ready-to-serve range in August, rivals will no doubt be eyeing it with some trepidation.

Back in chilled, the brands - aside from beleaguered NCG - are looking relatively healthy. Glorious and Yorkshire Soup, at least, are both in growth - suggesting own label won't have things all its own way in the coming year.
TOP LAUNCH 2012
New Covent Garden Fresh Bowls Hain Daniels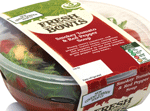 It has been a rocky period for New Covent Garden Soup as it battles supermarket delistings and fights to defend its market share from both own label and rival brands. Its innovation pipeline, however, remains as fluid as ever - and Fresh Bowls may be its most exciting NPD yet. The range features Smokey Tomato & Red Pepper and Red Thai Sweet Potato & Coconut soups, sold in a microwaveable bowl and topped with a layer of fresh vegetables, which are steamed when the soup is heated. Genius.