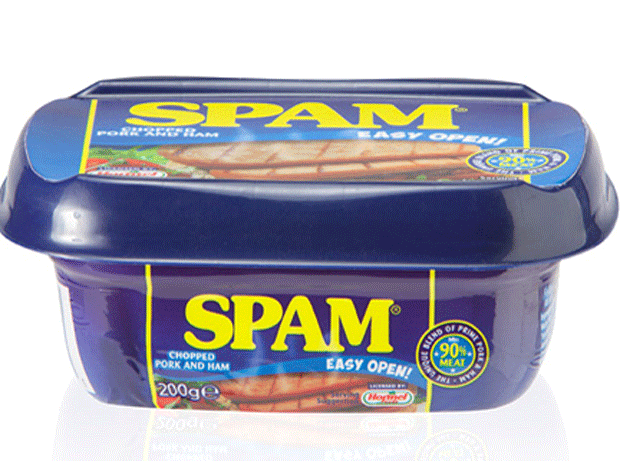 Monty Python's favourite food is to come in plastic tubs for the first time.
The new Spam format, which hits Tesco next month and Asda in August, and will sit alongside existing tinned Spam products, marks the 75-year-old brand's first move outside cans.
The easy-to-open resealable tubs (rsp: £1.79/200g) has been developed to appeal to a younger demographic and grow the "static" canned meat category, said brand owner Hormel Foods.
"No major brand has offered a plastic tub as an easy opening format before and the development is expected to attract both new and lapsed users to the brand," it said.
The brand will be underlining the new lighter-weight, less waste packaging and its relevance for different meal occasion with the roll out of a six figure marketing push. The nationwide campaign will target leading women's titles and its fans on social media sites as well as specialist camping and caravanning media.
Although the latest figures (Nielsen, year to date May 2013) show Spam's market share in the UK is static at 61%, this rose 8.3% in 2012, the company said. Sales also increased 10% year on year and Hormel's second quarter results, issued on 23 May noted that the international team had achieved "excellent results led by higher sales of the Spam family of products".
However earlier this week (Tuesday 18 June) Spam's US parent company Hormel Foods downgraded its shares from 1.96-2.03 to $1.88-196. In a statement, president and chief executive Jeffrey Ettinger said the shortfall in the second half results stemmed from lower than expected results in pork operations, higher input costs and softer sales of retail products in the Refrigerated Foods segment.
Its share price subsequently slumped 4.6% on the New York Stock Exchange.
A spokesman for Spam in the UK told The Grocer the financial statement pertained only to the company's overall US portfolio and had "no relevance" to Spam's UK market.
Hormel's portfolio includes meat products under its Hormel, Compleats and Lloyd's barbecue labels, Jennie-O Turkey Store, and Skippy Peanut butter.
Spam is manufactured under licence in Europe by Tulip.