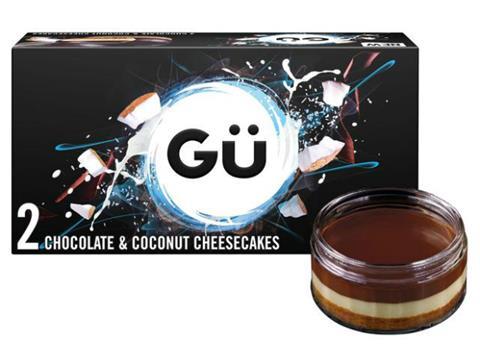 Posh desserts maker Gü Puds has taken the brunt of a festive overhaul of Asda's chilled desserts segment, losing almost half of its SKUs in the grocer.
Asda has in recent weeks ramped up its selection of chilled desserts ahead of Christmas, with an emphasis on own label. Of 44 new lines, 33 are part of the supermarket's standard or premium brands [Brand View 6 w/e 5 November 2018].
New own-label products have a seasonal focus and include Chocolate Pots (£1/4x70g); All-Butter Tartes au Citron with White Chocolate (£2.50/2x96g) and Donuts & Chocolate Dipping Sauce (£2/348g).
Some options, such as Extra Special Vegan Dark Chocolate & Salted Caramel Pots (£3/2x83g), Gingerbread Trifle (£4/650g) and Extra Special Raspberry & Prosecco Panna Cotta Snow Globes (£5/4x110g), have been listed online ahead of becoming available on 19 December.
While branded desserts from Cadbury, Nestlé, Müller and Oppo have also been added, Asda has made room in its chillers by axing 15 lines, including five from Gü Puds. With the likes of Chocolate & Coconut Cheesecakes and Passion Fruit Mousse delisted, the brand has lost 42% of its SKUs in the supermarket, leaving it with seven options on shelf.
Gü commercial director Jean-Baptiste Robert said the delistings had been in an effort to hone the Noble Foods-owned brand's offer.
"Over the past nine months, we have been working collaboratively with Asda as part of its range optimisation strategy to ensure we provide the best mix of products that work hard in store. This included removing some products that were in low distribution and less relevant to the Asda shopper," he said.
"However, numerical distribution of our overall twin-pack business is now up 7%, with our new Salted Caramel twin-pack gaining higher distribution than the twin packs we removed from the Asda range."
Gü's pack of Salted Caramel pots for two was launched in October as a limited edition.
Robert added Nielsen data for the 52 weeks to 6 October 2018 showed that "Gü's value share of premium desserts in Asda has risen by 5.7%, with sales growth of 4.8%".