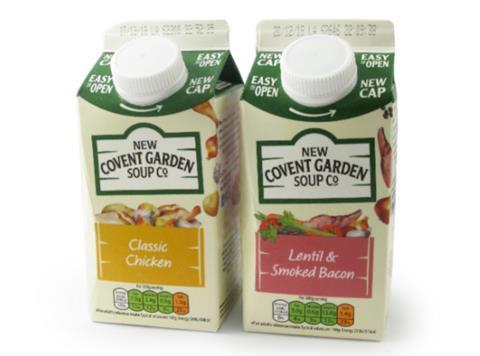 Hain Daniels is upgrading its fresh soup offer in the mults, stripping back SKUs of New Covent Garden while winning extra space for its higher-priced Yorkshire Provender.
More than half of New Covent Garden Soup Co's SKUs in Sainsbury's have vanished from chillers in recent weeks, the latest data from Edge by Ascential shows [w/e 27 November 2018].
Ten of the brand's soups have become unavailable from Sainsbury's since early October, leaving seven core variants such as Classic Chicken, Wild Mushroom and Vegetable. Meanwhile, Broccoli Pea & Pesto, Chicken & Chorizo Jambalaya, and Carrot & Butternut with Coriander are among those no longer listed, according to Edge.
Similar changes have occurred in Asda, Morrisons and Tesco, where the likes of Skinny Creamy Chicken & Vegetable have vanished since early autumn.
A spokeswoman for Hain Daniels said there had been "some lines we have removed which were part of a category review we suggested" – but she stressed New Covent Garden had "not been delisted".
In Sainsbury's, the soup's stablemate Yorkshire Provender recently won listings for six SKUs with a shelf price of £2.50 – 25% higher than New Covent Garden's £2.
The overhaul of Hain Daniels fresh soup offer comes as New Covent Garden's core portfolio has lost 8.9% of its value in the mults over the past year, on volumes down 10.7% [Nielsen 52 w/e 8 September 2018]. However, Yorkshire Provender – which Hain Daniels acquired in early 2017 – has grown its standard lines by 25.5% on volumes up 20.9%.