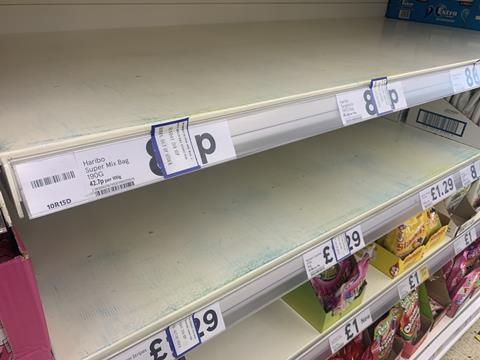 Tesco's price war with discounter Aldi has been blamed for the disappearance of one of the UK's favourite sweets brands from its shelves across the country.
The Grocer understands a stand-off in negotiations between Haribo and the supermarket over its demands for price reductions has led to the suppliers' sweets being widely unavailable in Tesco stores.
Core lines including Starmix, Tangfastics and Supermix are also all posted as out of stock on Tesco's online grocery site.
It is believed the situation stems from negotiations that began in the summer when Tesco told suppliers they had just days to agree to drop their prices to Aldi levels or below, as part of its drive towards an everyday low pricing model.
The Grocer has previously reported how suppliers were given a cut-off of 10 July to respond to its call for a switch to EDLP, which will also see Tesco slash brand promotions.
A source said Haribo had refused to budge in the negotiations and so Tesco was "effectively not ordering".
"Tesco aren't selling Haribo properly at the moment because they've fallen out," the source said.
"Tesco's strategy of having a business operation model that supports buying products from brands and retailing them at Aldi prices just isn't working.
"Suppliers are saying they are off their head, their business models are different. This just doesn't work. Haribo can't do it, haven't played the game, and guess what – Tesco aren't stocking them."
Read more
West Yorkshire-based Haribo, which has annual sales of more an £188m, was voted Britain's top sweets brand by Channel 5 viewers In 2019.
Its absence from the shelves at Tesco has not gone well with some shoppers on social media.
"What's going on with Haribo, none to be seen around these parts of Devon, have you stopped selling," said one on Twitter.
"Can you believe my local Tesco has no haribo in stock," tweeted another customer. "Ruined my entire day."
A spokeswoman for Haribo said: "We can confirm that Haribo has not been delisted by Tesco. No comment can be made with regards to any commercial discussions other than that our conversations continue."
Tesco said it was still selling 16 Haribo lines across multi and single sweet bags, as well as Haribo products in its world trade and party ranges.
It declined to comment on the reasons behind the core products being off the shelf.