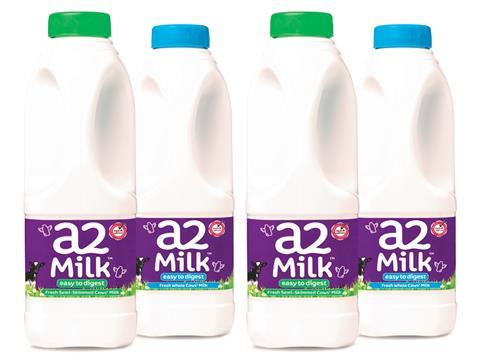 People who believe they could be lactose intolerant may only have an intolerance to the A1 beta casein protein, a new study has suggested.
A clinical trial funded by alternative milk brand A2 – involving 600 adults in China with self-reported lactose intolerance – found that those who consumed the milk brand showed improvements in gastrointestinal symptoms compared with standard milk, which contains both the A1 and A2 proteins. Milk from the A2 brand only contains the A2 protein.
The independent study, published today (15 November), is the largest of its kind to date, and was authored by academics at the Beijing Research Institute for Nutritional Resources, Fudan University, Sun Yat-sen University and the Chinese Center for Disease Control and Prevention.
The results suggested that "milk-related gastrointestinal symptoms may result from the ingestion of A1 beta casein rather than lactose in some individuals", adding that the elimination of A1 beta casein from the diet "was associated with reduced severity of acute gastrointestinal symptoms after milk intake in this population", the authors said.
The findings were described as a potential "game changer" by the A2 Milk Company's UK and Europe CEO Scott Wotherspoon.
"One in five Brits report having issues with dairy, but less than 5% are actually medically diagnosed as lactose intolerant," he said. "The new research could be a real game changer for many who struggle digesting dairy and A2 Milk could allow them to return to real, nutritious cows' milk."
Dr Anton Emmanuel, consultant gastroenterologist and director of the GI Physiology Unit at London's University College Hospital, welcomed the results.
"It suggests that proteins found in dairy can have a significant impact on digestion, and that lactose may not be the only cause of gastrointestinal issues in those with an intolerance – around 60% of the world's population," he said.
"Given that the underlying biochemistry and symptoms of lactose intolerance are identical in Asian and Caucasian/British populations, these results are highly significant to both regions."
Dr Anthony Hobson, clinical director of the London-based Functional Gut Clinic, added: "Patients often come to us convinced that their digestive troubles are due to lactose intolerance – there is a lot of self-diagnosis taking place. When we then test them for the condition and it comes back negative, they are lost as to what else the problem could be – but this could explain it."