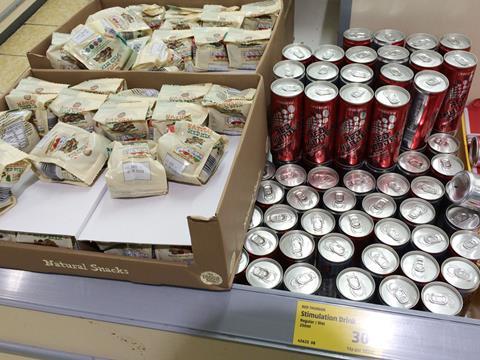 Photo by Steve Dresser groceryinsight.com
Aldi has been lambasted by health campaigners after its stores were found to have been stocking high-sugar energy drinks in so-called 'health lanes'.
The discounter brought in a ban on sweets and chocolates at its checkout displays this month, after announcing last year that it had decided on the move in response to complaints from parents about pester power.
However, the move, which follows crackdowns by Tesco and Lidl to remove "guilt purchases" from their checkouts and has been held up as a good example by health minister Jane Ellison, backfired this week as it emerged Aldi had been stocking the own label energy drink Red Thunder, containing 26g of sugar per can, alongside nuts and seeds.
"Retailers are rightly being criticised for failing to co-operate on improving their promotions and this is a classic failing of the voluntary nature of the Responsibility Deal," said Katherine Jenner, campaign director for Action on Sugar. "Companies will only work towards improving the health of their customers as long as it doesn't threaten to damage their profit.
"'Pile em high and sell em cheap' promotions selling high margin sugary, salty, fatty foods are the linchpin [of grocery], so it's no wonder they won't toe the line. What is best for business is not best for public health."A spokesman for Aldi said: "We acknowledge that across our estate of over 550 stores there will be isolated examples where the implementation in store is not in line with our healthier tills policy, but we are confident that the introduction of such a policy will greatly benefit our customers.
"We are communicating with all stores on a regular basis regarding the initiative to ensure its long term success."
"Having energy drinks in health lanes doesn't look very good," added retail expert Steve Dresser.