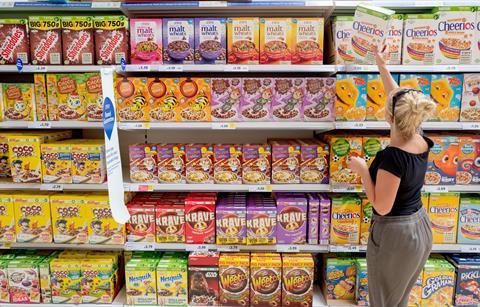 Banishing high sugar cereals to the top shelf has little impact on purchases of healthier food, a trial involving leading supermarkets has shown.
The Grocer revealed in December that Sainsbury's was experimenting with the idea as part of a pioneering trial of so called "nudge tactics" at more than 100 stores in Lambeth and Southwark. Tesco, M&S and Boots were also involved in the trial.
This week, initial results of the trial, which also involved a raft of leading suppliers, revealed taking HFSS cereals away from eye level, in a bid to reduce "pester power", led to a switch to healthier, higher-fibre cereals put in their place of less than 1%.
More than 40 Sainsbury's stores were involved in the nudge trials. The plan to remove cereals from eye level was hatched after Nectar basket analysis found they were one of the most commonly purchased items among low affluence customers when it came to both volume and calories purchased.
For a 12-week period, the supermarket ran a trial across seven of the stores whereby high-fibre, low-sugar cereals were moved to eye level, and higher-sugar, lower-fibre cereals were placed on the top shelf.
This week a report by Boston Consulting Group, on behalf of the Consumer Goods Forum, which oversaw the project, said the top shelf trial had resulted in "limited change in consumer behaviour". It said this challenged the hypothesis that "eye level is buy level" for the cereal category.
"Against control stores, the cereal placement trial stores had a non-significant impact on sales of higher fibre SKUs (<1%), and almost no switching appears to have occurred," said the report
However, other parts of the nudge trial were more effective.
Tesco changed the way products were promoted in 35 of its Tesco Express stores in the boroughs, removing non-seasonal confectionery from fixture display and introducing its Fresh 3 produce as a permanent off-fixture display. It also increased overall fruit & veg lines on display compared with non-trial stores and swapped out less healthy promoted lines on aisle ends and ladder racks with healthier choices.
Initial results from the first 30 weeks of the trial, from March to early September 2019, show that the interventions delivered a "significant improvement" in the healthiness of customer baskets versus control stores, while leading to a negligible (–0.6) reduction in sales.
The analysis found trial stores "significantly outperformed control stores" on sales of the Fresh 3 produce lines and crop flushes by 8% and 12% respectively, increasing the sales of healthier categories.
However, this element of the trial has also shown the fickle health habits of Brits. Tesco revealed good intentions had gone out of the window in the run-up to Christmas, with a slower introduction of Christmas off-fixture displays leading to a significant negative impact on sales in trial stores versus control stores.
The coronavirus outbreak forced the temporary suspension of the trial in March. Independent research from the Nuffield Department of Primary Care Health Sciences at the University of Oxford, led by Dr Susan Jebb, who previously headed up the government and industry's former flagship health strategy, is due to be published in the autumn to look at the findings in more depth.
"Whilst the industry has worked together in the past on topics such as reformulation, we have never collaborated across such a breadth of players both within and outside of the industry," said Judith Robinson, Tesco head of health – product, and chair of the Collaboration for Healthier Lives UK initiative.
"We have only just started our journey together and I believe we have got more right than wrong. We have the right ambition, stakeholders and approach and have delivered initiatives with the potential for real change. There's more work to do and by strengthening our collaboration and the scalability of our work, the foundations to deliver change are there."