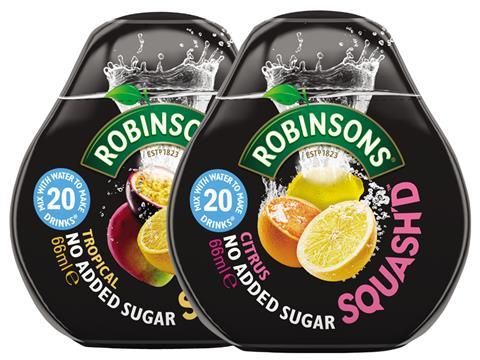 Britvic is axing all full-sugar lines from its Robinsons fruit squash in a brand relaunch.

With concerns over the sugar content of soft drinks held up as a key reason for the 6% volume decline in the squashes and cordial category [Nielsen 52 w/e 11 October 2014], all Robinsons fruit squashes will now be 'no added sugar.' Britvic - which has seen sales of Robinsons squashes fall 4.1% year on year to £212.5m [Nielsen] - said the move would simplify the fixture for shoppers.

Full-sugar products including orange and apple & blackcurrant will be phased out from next month, as Britvic rolls out new flavours lemon & mango, orange & raspberry, apple & blackcurrant, and orange, passion fruit & pineapple.

A new look is also being introduced to boost association with fruit, along with the strapline 'Real fruit in every drop.'

Robinsons full-sugar lines account for about 10% of the brand's volume sales, and Britvic said it "was confident the vast majority of sales would switch into other products in the range, most notably the 'no added sugar' variants of the same flavour."

Retailers understood the thinking behind the move, said Ian Forshew, Britvic commercial director for at-home. "We have been liaising with them for some time - they are aware of the trends driving this."

The activity is part of Britvic's strategy to develop a new 'dilutes segment,' to attract more shoppers to the category and create new consumption behaviours and occasions.

This will include further expansion of the Squash'd water enhancer range with new flavours Citrus, Tropical and Pear & Blueberry. Launched a year ago, Squash'd was now worth £8m in retail sales, said Forshew.

Britvic is supporting Robinsons with marketing activity including a TV campaign airing from the second week of April.