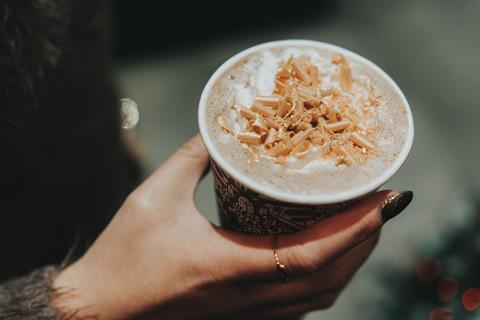 Out-of-home operators have been slammed for the amount of sugar in many festive coffee and hot chocolate products.

A new study by campaign group Action on Sugar (AOS) found many high street coffee chains had failed to reduce the sugar in their festive milk and milk alternative hot drinks, despite the government's sugar reduction programme. The amount of sugar in some hot drinks has increased since 2016.

The worst offender was Starbucks' Signature Caramel Hot Chocolate made with whipped cream and oat milk (venti), with over 23 teaspoons of sugar and 758 calories,

Starbucks' Gingerbread Latte with Oat Milk (venti), with more than 14 teaspoons of sugar and 523 calories per portion, was the coffee with the most sugar.

In comparison, Leon's regular Hot Chocolate contained just over four teaspoons of sugar (17g) and 257 calories. AOS said this demonstrated lower-sugar drinks could be made and enjoyed.
AOS, which analysed more than 200 drinks, is calling on the next government to extend the Soft Drinks Industry Levy to sugary milk and milk-alternative based drinks. This is in both Labour and the Liberal Democrats' manifestos and is also up for consideration under the current government's obesity plan.

"It's shocking that so many high street coffee chains are wilfully putting their customers' health at risk despite PHE setting sugar reduction targets for sugary milk drinks in 2018." said AOS registered nutritionist Holly Gabriel.

"Responsible coffee shops have shown reformulation is possible within this category. For example, Costa have made some significant reductions in sugar since 2016 and some now offer smaller sizes as standard for seasonal drinks.

"Coffee shops and cafés need to take much greater steps to reduce the levels of sugar and portion sizes, promote lower-sugar alternatives and stop pushing indulgent extras at the till."