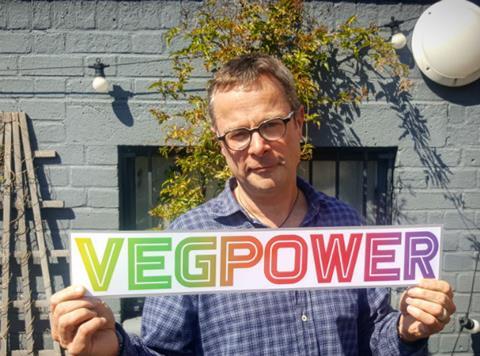 Peas Please is asking for your pounds, please – 100,000 of them to be precise, as it today launches a crowdfunding push to raise money for its Veg Power generic advertising campaign.
The Food Foundation-led initiative first outlined plans to launch the Veg Power campaign in January.
And in a bid to boost the nation's veg consumption and avert a "diet crisis" it is now asking the food and retail sectors to fund it.
The timing of the launch could not be more opportune, or carefully crafted. Last week, Defra released its Family Food Survey – following the habits of almost 5,000 UK households – which found consumers were purchasing fewer fresh green vegetables in 2016/17 than in 2013.
Meanwhile, a staggering 95.5% of 11 to 16-year-olds don't eat their 5 a day, according to the Food Foundation, while consumption is hardly any better among primary school-aged kids, with 80% failing to eat enough veg.
Put simply, the UK is at crisis point, warns the Food Foundation. It says 20,000 premature deaths a year could be prevented by eating just a single extra portion of veg per day.
This all comes just a week after Jamie Oliver took the fight to ban junk food ads aimed at kids to parliament, while Hugh Fearnley-Whittingstall's programme Britain's Fat Fight called on the government to urgently take action on the matter.
Now those same two voices are also at the forefront of calls to replace junk food campaigns with ads pushing veg. Which is where the crowdfunding push comes in.
Just 1.2% of the spend on food and drink advertising goes on vegetables, says the Food Foundation. It hopes parties with a vested interest in the sector – be they suppliers, retailers or the public – will invest in the initial crowdfund with the goal of making veg cool again. If it all comes off, we could expect the fund to bear fruit by the autumn.
It is also calling on the government to step up and contribute to the fund alongside those suppliers and industry figures.
Since its soft launch earlier in the week, the crowdfund had hit 13% of its target at the time of writing, with those making small donations given the opportunity to collect prizes including novelty boxer shorts and tours of Borough Market. The fund is also attracting interest from industry giants such as Bakkavor.
And why couldn't a generic ad work? Dairy UK's spoof public service announcements certainly made an impression, while the AHDB's Love Pork campaign contributed to an 8% uplift in unit sales.
But not all veg will reap the benefits. The Family Food Survey found potatoes are on a continued downward trajectory, with Brits eating 101g less than they did in 2013. However, the Food Foundation doesn't count spuds among the veg it wants to promote, citing PHE's nutrition plate, which counts tatties as carbohydrates.
With a renewed focus on selling happiness over health, Peas Please is hoping the fund will emulate the success of British Summer Fruits, whose generic berries marketing campaign contributed to a tripling of sales from 2002 to 2017. Will the industry take the carrot?