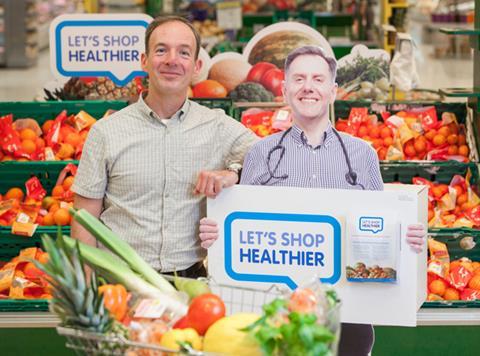 The government has given retailers and suppliers a "short window of time" to agree a voluntary clampdown on the promotion of foods high in fat, salt or sugar as it prepares to launch a new strategy to fight childhood obesity in the spring.

The DH claims supermarkets and suppliers can supply the final piece in the jigsaw in its Responsibility Deal if they support a raft of proposals, including getting rid of "guilt lanes" at checkouts and the removal of sweets and sugary fizzy drinks from gondola ends.

It is also planning a new voluntary code to limit the marketing of HFSS products to children.

Talks before Christmas between health secretary Jeremy Hunt, health minister Jane Ellison and CEOs of suppliers and all the major supermarkets focused on protecting children from obesity and Ellison said she was "hopeful" they would result in a "package of measures".

Dr Susan Jebb, chair of the Responsibility Deal food network, who was central to the talks, said: "We've challenged them to think what they might do from a long and wide-ranging list of ideas. We're giving the industry a short window of time to come back with a response."

She said pressure was growing on the government to regulate if companies failed to respond to the calls.

With pressure on the DH reaching fever pitch in the wake of this week's alarmist reports, it wants a commitment to guarantee a minimum level of price and loyalty promotions for healthier options, the banning of cartoon characters on packaging of HFSS foods and restrictions on online promotions.

This week, discounter Lidl promised to roll out its 'Healthy Checkouts' concept - an initiative first trialled last year - replacing unhealthy items with fresh fruit and juices at tills, claiming the trial stores attracted a 20% higher footfall.

"I think it's a bold move," said Jebb. "What I find very encouraging is that they've done it in response to what their customers want and I think it sends a powerful message to other retailers."

"This is a huge opportunity for the industry to show that a voluntary strategy is the way to deal with the obesity crisis," she added.

"We're tackling satfats, calories and salt, and the thing that would wrap it all up is something around promotions."

Meanwhile it was revealed this week that a new pilot scheme in a Morrisons store in Salford, using cardboardboard cut-outs of local GPs in the fresh produce aisles delivered a 20% rise in the sales of fresh fruit and a 30% uplift for frozen fruit.