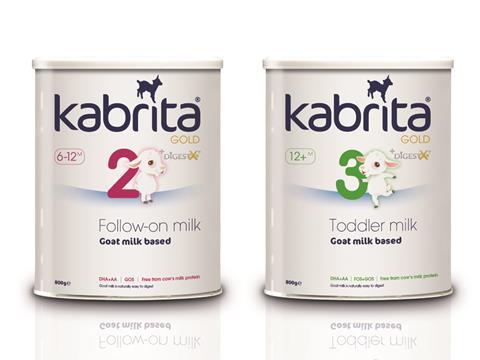 The fledgling market for goats milk-based infant and follow-on formula still faces challenges over public perception, despite being cleared for sale by regulators last year, suppliers claim.
Harald Oostwould, spokesman for goats milk formula brand Kabrita, said more needed to be done to promote the product, with "some doctors still actively discouraging consumption" because they were not aware it had been shown to be safe for infants.
The range was launched in the UK last autumn in the wake of new European Union-wide regulations permitting the use of goat's milk protein in formula products for the first time, and has achieved a listing with Ocado. It is easier to digest than cow's milk formula, and richer in nutrients, claimed Oostwould.
Claire Magee, MD of NannyCare, which led the campaign to amend EU and UK regulations, added that while progress had been made since 2014, it would take time for health professionals to fully "get the message" and counteract negative information.
NannyCare is currently listed by Waitrose and Ocado, but Magee added that the other multiples had been slow to show any interest in listing the products.
"What surprises me is that to-date none of the major multiples other than Waitrose have yet to recognise the significance of this opportunity," she said. "It isn't every day there is a regulation change of this magnitude that affects the baby milk category."
The major supermarkets were yet to "fully appreciate that this isn't just a new brand choice in the category, but a different product choice" since all existing mainstream brands were based on cow's milk and were essentially very similar, Magee claimed.
"The goat milk alternative is needed by UK parents and I believe there is a huge opportunity for the first major multiple (other than Waitrose) which comes on board and stocks the product," she added.