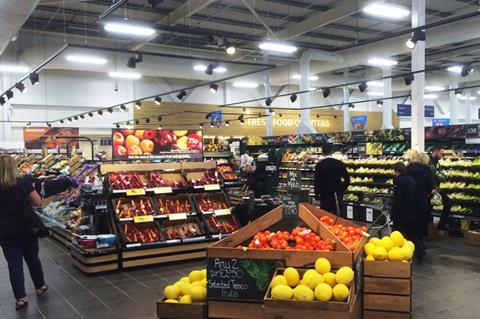 A groundbreaking "nudge tactics" trial by leading supermarkets and suppliers has shown promotions to make healthier food cheaper can lead to double digit increases in sales.
Analysis by Oxford University found trials involving more than 100 stores in Lambeth and Southwark were able to significantly boost sales of vegetables and healthier versions of HFSS products such as baked beans and chips.
However, the report on a year of pilots run under the Consumer Goods Forum and Guys and St Thomas Charity's Collaboration for Healthier Lives UK (CHL UK) programme, found that despite the success of supermarkets such as Tesco and Sainsbury's in making baskets healthier, the project had been hamstrung by lack of commitment among retailers and suppliers, as well as being hit by the impact of the coronavirus outbreak.
With the government having set out plans to bring in a sweeping ban on HFSS volume and location promotions in store, the report, Can Supermarkets Help Turn the Tide on Obesity?', urges companies to show more ambition to tackle the obesity crisis.
Pilots across the two boroughs achieved varying degrees of success in nudging shoppers towards healthier projects.
In one trial, Tesco promoted fresh fruit and veg as part of its Fresh 3 scheme, which was later rolled out nationally, and over the intervention period (May to November 2019) sales of fruit and veg rose 13% year on year.
However, the report found Tesco had been forced to suspend the promotion because of the coronavirus crisis, although it planned to re-introduce it when possible.
Tesco also trialled the removal of free-standing promotional displays for Easter confectionery between March and April last year, which led to a 22% decrease in Easter confectionery year on year. However, the supermarket replaced the promotions with products including beans, nuts, pulses and healthier baked crisps and was able to achieve a negligible (-0.6%) reduction in overall sales revenue.
In another trial, Sainsbury's flipped the controversial use of cartoon characters on its head by using a Disney character and a card collection promotion, aimed at kids, to promote products including healthier breakfast cereals, oats, fruit and lower-sugar baked beans. The report found the intervention stores sold a weekly average of 72% more tins of low-sugar beans and 387% more packs of fruit per week.
Not all of the interventions succeeded, with a trial by the Co-op to put up shelf labels showcasing reduced and sugar-free drinks leading to a "notable decrease" in sales of the products.
However, Sharon Bligh, health and wellness director at the CGF, said the report was a "milestone" and the next phase would "go national" with a rollout of some of the most effective intervention trialled across supermarkets from March next year.
"Now we need to increase the ambition and show the industry doesn't just want to wait around for the big stick of regulation," she said.
Richard Hall, Danone VP and general secretary and CHL UK co-chair, said: "Having top level academics independently asses the effectiveness of these interventions is a really important step.
"The results are very encouraging and now the challenge is how we get scale."
Co-chair Judith Robinson, head of health at Tesco, added: "By sharing our data with the University of Oxford, we are showing our commitment to deepening the understanding of what works so that we can make quicker progress based on the evidence."