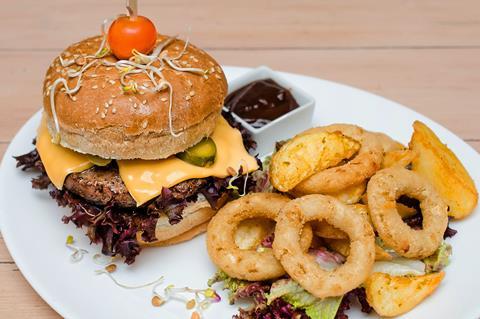 Health campaigners have called on the government to ban junk food ads before 9pm as part of the prime minister's impending emergency crackdown on obesity to fight coronavirus.
Action on Salt & Sugar, along with numerous other health charities, has urged the PM, who was reported last week to be working on new measures to fight obesity ahead of a potential second wave of coronavirus, to include banning ads before 9pm in any prevention plan. Obesity is now understood to be associated with worse outcomes for those suffering with Covid-19.
Any plan that excluded a ban, said Action on Salt & Sugar, would not deliver the necessary impact on public health. It argued a ban would be likely to influence adults and children, have a positive impact for BAME communities (which have been hit harder by the virus), and encourage wider reformulation by the food and drink industry to improve the nutritional quality of products.
"Marketeers had the opportunity to voluntarily cease unhealthy food and drink advertising during this pandemic, yet they continued to pump out adverts for fast food delivery companies, chocolates, sweets and more," said Action on Salt & Sugar campaign director Katharine Jenner.
"The time has now passed for being soft on industries that 'feed' into the obesity crisis and profit from a culture of encouraging lazing, gazing and grazing."
The link between obesity and coronavirus was brought to the fore by Boris Johnson himself, who, according to national news reports, blamed his own severe battle with the illness on his weight.
Last year the government mounted a major consultation into reducing children's exposure to advertising for HFSS food and drink on TV and online, proposing a broadcast advertising ban before 9pm as well as a clampdown on in-store price promotions. The results of the consultation are still being analysed.
A Nielsen analysis commissioned by Cancer Research reported in February this year that HFSS products were still dominating typical family TV ad breaks, accounting for almost half the food adverts (47.6%) shown during September 2019 on ITV1, Channel 4, Channel 5 and Sky1. That figure rose to 60% of ads in the 6pm to 9m slot on those channels.
The government "already has many of the necessary ingredients for a new recipe to tackle obesity and build a healthier food environment for our children", said Children's Food Campaign co-ordinator Barbara Crowther.
"Launching an obesity plan without comprehensive 9pm watershed on TV and online advertising and tightening marketing and promotional regulations, would be like trying to bake bread without yeast or leaven."