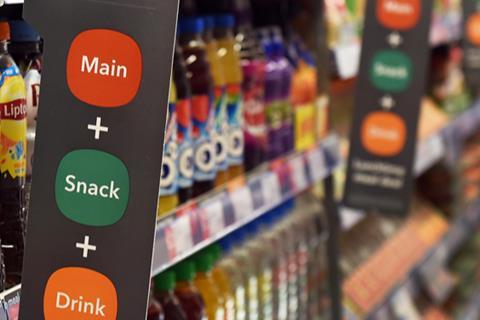 Food industry body IGD has commissioned a major new research project to measure the impact of the government's crackdown on HFSS promotions.
The Grocer has learned it has partnered with the University of Leeds and the University of Aberdeen, with the study to use industry sales data to look at how the ban has changed shoppers' baskets.
It will be the first academically rigorous test of the impact of the measures, with results of the study due to be released in October 2024, potentially weeks before the next election.
The moves comes a year on from the introduction of the government's ban on promotions in prominent store locations, such as aisle ends.
Further plans for a ban on multibuy promotions, including bogofs, were shelved until 2025 by ministers amid concern over the impact on food prices.
In recent weeks, debate over the future of HFSS policy has come to a head with the DHSC planning a system of voluntary reporting by the industry on the healthiness of its sales.
However, supermarkets including Asda and Sainsbury's have said there needs to be mandatory regulations set by government, with nudge body Nesta leading calls for a new system of regulation and fines for supermarkets that miss health targets.
Labour has promised to push ahead with all elements of the original HFSS ban proposed under Boris Johnson, including the also-shelved proposals for a clampdown on junk food advertising on TV and online.
The research project is being led by Professor Michelle Morris at the University of Leeds and is part of a broader UKRI Transforming UK Food Systems academic collaboration, led by Professor Alex Johnstone at the University of Aberdeen.
''In line with our mission to make healthy, sustainable diets easy and accessible for everyone, we are delighted to be part of the project working to investigate the impact of recent government HFSS legislation on shopping baskets," said IGD head of health and sustainable diets Cathy Capelin.
"It will use population-level supermarket transaction data from multiple retailers."