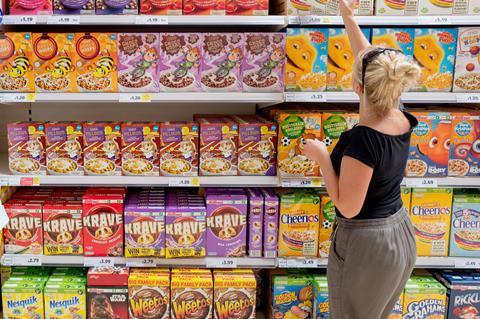 High-sugar cereals are being placed on the top shelf and healthier products promoted at the expense of calorie-laden alternatives, under a major new initiative by supermarkets in the war on obesity.

The Grocer can reveal retailers including Tesco, Sainsbury's, M&S and Boots are experimenting with new promotions and layouts at more than 100 stores in Lambeth and Southwark, to see if a so-called 'nudge' strategy can make Brits healthier.

The trials include putting high-sugar cereals on the top shelf to avoid eye contact with kids and swapping HFSS products for healthy ones in promotions.

The results of the trials, being overseen by the Consumer Goods Forum (CGF), will be measured by leading experts at Oxford University. If they are found to make baskets healthier without damaging sales, they will be rolled out nationally.

Tesco, whose CEO Dave Lewis is co-chair of the forum, has launched trials of a raft of different nudge techniques at nearly 50 of its London stores, including "re-balancing" its free-standing promotions by removing all non-seasonal confectionery from fixture displays and bringing in additional off-fixture displays featuring offers on fruit and veg.
"Better choices"
It has also been experimenting with swapping promoted lines on aisle ends and putting "better choices", such as baked instead of the standard crisps in key feature space.

Among many major suppliers involved in the trials, Tesco has joined forces with McCain and replaced its only variant of oven chips in 38 Express stores with a new lighter variant, while a third of the superstores and Extras in the borough have replaced Heinz four-packs with no added sugar varieties.

Tesco has also launched in-store marketing messages pushing the health benefits of switching to lower-fat milk, wholegrain pasta and eating more fruit and veg.

"We have been working on intervention with supplier partners to make it easier for our customers to choose better options," said Judith Robinson, commercial manager at Tesco.

"We are very encouraged by the early results of many of the interventions."

Retailers involved in the trials have commissioned independent research from the Nuffield Department of Primary Care Health Sciences at the University of Oxford, led by Dr Susan Jebb, who previously headed up the government and industry's former flagship health strategy, The Responsibility Deal.

Moves to get retailers to sign up to a major commitment on healthier promotions floundered under the deal, but the latest plans come with the government having proposed plans for a crackdown on HFSS promotions in store, which suppliers have warned could cost the industry £700m a year if retailers don't find healthier replacements.

"This broad collaboration is focussed on a simple mission to make it easier for consumers, especially parents, to make healthier choices that will deliver impact towards national and more local health goals," added Tesco's Robinson
Sainsbury's trials
Sainsbury's has involved more than 40 stores in its trials, which include putting high-sugar cereals on the top shelf in an effort to prevent "pester power" leading to unhealthy purchases.

The retailer has also taken 25% off the calorie content of biscuit aisles in certain stores, to test the impact of smaller pack sizes on sales.

Sainsbury's, which has been working with suppliers including PepsiCo, Nestle and Unilever, has also been trialing a scheme awarding 10 times Nectar points for fruit and veg purchases.

Sainsbury's nutrionist Nilani Stritharan told The Grocer all of the trials would last at least three months to gather so that they provided a firm body of evidence to experts.

"It's absolutely critical that we understand whether this works," she said. "We will be looking at the impact of the various trials and then will look to see if we can then roll them out nationally."
'Nudge' competition fears
Supermarkets have warned the new 'nudge' initiative could be scuppered by the UK's strict competition laws.
While a series of the UK's top supermarkets are involved in the trials, fears have been expressed that the CMA could intervene if retailers are found to be sharing commercially sensitive information with competitors.
Peter Freedman, MD of the Consumer Goods Forum (CGF), described the barrier as a "nightmare" and said retailers were working hard to find ways to collaborate on tackling obesity without facing the threat of investigation.
"Competition law does not constitute a barrier to the initiatives but it does provide a framework within which we must all operate in order to protect our customers," said Tesco.
"Key to this is being mindful that competition law specifically prohibits sharing commercially sensitive information between competitors and we are clear that any outcomes or results that are to be shared will have to be reviewed in this light."