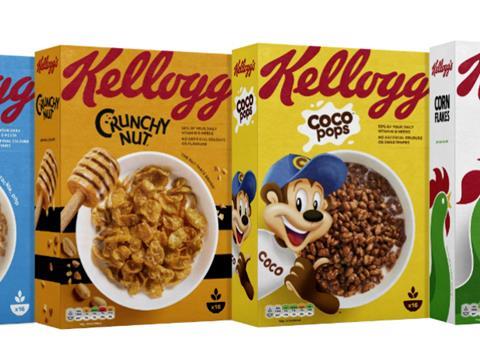 Kellogg's is to adopt the UK's traffic lights nutrition labelling for the first time, rolling out the first packs in January, after years of resisting calls to adopt the colour-coded system.
The decision to apply the voluntary scheme across leading brands including Special K, Coco Pops, Corn Flakes, Rice Krispies and Frosties marked the first time Kellogg's had "attempted to change the look and feel of its whole cereal range in one go" it said.
However, multilingual boxes shared across a number of European countries, where colour-coded labels are not well-known, will not carry the new design. This meant "almost 80% of Kellogg's cereals on sale in the UK and Ireland will have colour labelling on the boxes" by early 2020, said the supplier.
The decision follows years of refusal by Kellogg's to apply traffic lights. In 2013, the breakfast giant was notably absent from a list of 26 leading suppliers, including PepsiCo and Mars, that committed to a government-proposed version of the red-amber-green scheme. Four years later, Kellogg's was among cereal makers attacked by Action on Sugar for not using traffic lights on front of packs.
Since the start of 2018, however, Kellogg's has undertaken substantial reformulation work to make its cereals portfolio healthier. It has axed sugary Ricicles while cutting sugar by 40% in Coco Pops and by 20% in Rice Krispies.
Kellogg's had featured its own black & white health labelling "for more than a decade" said UK managing director Oli Morton. Following last year's announcement of its health-focused reset, the company surveyed 2,000 UK shoppers "to ask them about their attitudes towards labelling and what we should do. Put simply, they said we should change and move to a full-colour solution as they want help making healthy decisions."
Public Health England welcomed kellogg's decision, with its chief nutritionist, Dr Alison Tedstone, saying: "Clear information is the foundation of healthy choices, so we're pleased that Kellogg's is adding traffic lights to its front-of-pack labelling.
"This announcement highlights the importance of helping consumers to make informed choices, and we hope other companies will follow suit".