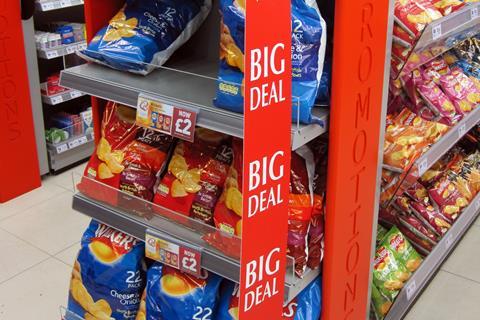 A slim majority of Brits support government plans for a total ban on online advertising of food and drinks high in saturated fats, salt and sugar (HFSS), an exclusive poll for The Grocer has found.
The YouGov survey found a similar level of support for the introduction of a new watershed, banning TV advertising of "junk food" before 9pm.
The poll comes with the government expected to confirm its plans for a HFSS advertising crackdown in the next few days, with the recent Queen's Speech having indicated it is pressing ahead with proposals despite huge industry opposition.
YouGov polled 1,200 British adults on 19 May, with the results showing 57% of adults would support the proposed ban on internet ads.
That compared to 58% who backed the proposed TV ad ban.
In both cases Brits were three times more likely to support the bans rather than oppose them, with around a quarter of those polled neither supporting or opposing the proposals.
The poll also showed much stronger support for the crackdown among middle class shoppers than working class respondents.
An overwhelming 63% of those in the ABC1 category supported the proposals, compared to less than half (48%) of C2DEs, although the latter group also expressed higher levels of indifference.
Read more
This week's poll comes with many companies looking to reformulate products ahead of next year's proposed advertising bans, as well as government proposals to outlaw volume and location promotions of HFSS products in stores.
However, there was controversy this week after Nestlé admitted more than 60% of its biggest selling products were unhealthy.
The Financial Times reported on a leaked internal presentation for its top executives which said the majority of its products did not meet "a recognised definition of health". According to the report, only 37% of the company's products, excluding items like petfood and specialised medical nutrition, received a rating above 3.5 under Australia's health star rating system that scores food products out of five.
"Nestlé is working on a company-wide project to update its pioneering nutrition and health strategy," a spokesman told The Grocer.
"We are looking at our entire portfolio across the different phases of people's lives to ensure our products are helping meet their nutritional needs and supporting a balanced diet.
"As we consider our future nutrition strategy, we are first focusing on assessing the part of our food and beverage portfolio that can be measured against external nutrition profiling systems. Systems like the health star rating and Nutri-Score are useful in this regard and enable consumers to make informed choices. However, they don't capture everything. About half of our sales are not covered by these systems. That includes categories such as infant nutrition, specialized health products and petfood, which follow regulated nutrition standards. "
"Our direction of travel has not changed and is clear: we will continue to make our portfolio tastier and healthier."