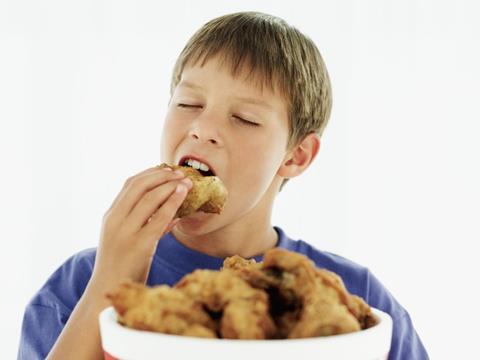 Children in the UK are massively confused by diet advice, with almost 20% of 11 to 16-year-olds believing chicken counts towards their 5 a day.
A survey by the British Nutrition Foundation, as part of Healthy Eating Week, found high levels of ignorance among younger people and adults about which foods they should be eating to get nutrients such as fibre and protein.
Almost a quarter of primary schoolchildren aged seven to 11, and 17% of older children, mistakenly believed chicken would count to their recommended daily intake, with almost a fifth of primary school children thinking the 5 a day included cheese.
Meanwhile, the survey found only 38% of all British adults and 23% of older children knew carrots contained fibre, while only 60% of secondary schoolchildren and 36% of primary schoolchildren believed wholemeal bread was a source of fibre.
The report also found big proportions of the public had minuscule knowledge of plant-based and vegetarian products, with a third of adults and more than half of schoolchildren never having tried lentils. A third of adults and nearly half of schoolchildren had never tried chickpeas and over a quarter of adults and nearly half of children had never tried kidney beans.
"Government advice is for us all to eat more plant-based foods because they're good for us and for the environment," said Sara Stanner, BNF science director.
"It is concerning that there is confusion across the UK about the nutritional contents of some common foods, including plant-based foods.
"Lack of knowledge means people are less empowered to make informed choices, and achieving a healthy diet, with a good balance of the right types of foods, is more difficult if you don't know which key nutrients the foods that we eat provide."