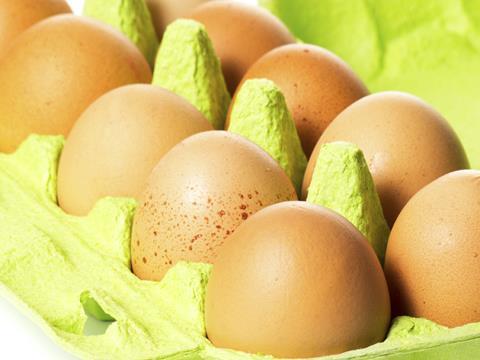 Noble Foods is changing animal welfare claims on packs of its Big & Fresh range of eggs after vegan charity Viva! made a complaint to Hertfordshire Trading Standards.

Big & Fresh eggs are derived from hens in enriched cages, and are sold by Tesco, Morrisons and Asda. The Viva! complaint centred on a claim on packs that stated Lion quality eggs were "produced in the UK under the British Egg Industry Council (BEIC) code of practice which ensures the highest standards of hygiene and animal welfare".

Viva! said the claims were "misleading" and exaggerated the BEIC code of practice, which makes no mention of ensuring the "highest standards" of animal welfare.

A spokesman for Hertfordshire Trading Standards confirmed it had been in discussions with Noble Foods on the issue, and said the company had agreed to remove the reference to the "highest welfare standards". New packaging will roll out over the next few weeks.

"We are working with the company to ensure their products are officially compliant," he added.

Viva! campaigns manager Justin Kerswell welcomed the pack change, saying consumers "should be able to make an informed choice".

However, Noble Foods insisted it had been planning to change its packaging anyway, and the Viva! complaint had nothing to do with it. "Rather, we have been planning to change our packaging to a new, different egg carton as part of a brand refresh for some time," a spokeswoman said.

She said Noble was "fully committed to maintaining the highest possible standards of animal welfare for its hens, and works diligently to meet or exceed both our own strict standards and the AHVLA guidelines".

The Big & Fresh brand provided the "highest standards of welfare for its hens within enriched colony farms and we have always clearly labelled the brand as 'eggs from caged hens' on-pack", she added. "We therefore refute any suggestion that this is misleading to consumers."

Noble Foods had also been planning on changing its packaging to a "new, different egg carton as part of a brand refresh for some time", said the spokeswoman, who insisted the changes had not been initiated by any complaints, and Trading Standards had been informed "out of courtesy" on 8 June.

"We are, and always have been, completely transparent about the lives of our hens on our farms and intend to continue to do so with the new Big & Fresh brand packaging," she said.