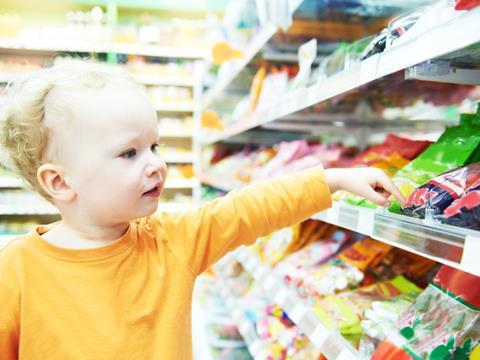 The government plans to ban promotions of unhealthy food at checkouts, front of store and end of aisles, after it unveiled its long-awaited Obesity Plan Mark 2 today.

Ministers also announced they would pass legislation to ban so-called supermarket guilt lanes and buy one get one free deals for HFSS products, both online and in store.

But just how far the ban on promotions goes is still in huge doubt, with ministers set to launch a series of consultations over their proposals and the industry gearing up for a major fight.

The Department of Health said the consultation would look at ending promotions of HFSS food and drinks "by location" and "by price promotion on volume", which could potentially see a much more sweeping ban across the store if it goes ahead.

Another major minefield in the legislation is just what food and drink will be covered. The DH said it would focus on HFSS products that contributed the most sugar and calories to children's diets but said that too would be the subject of a consultation.

The government also set out a plan to introduce a 9pm watershed for advertising HFSS products, and was looking at similar protections online.

There will be a crackdown on the out of home sector with a consultation over introducing mandatory calorie labelling on menus, a move which was welcomed by food and drink industry leaders.

Yet another consultation will look at banning the sale of energy drinks to children, a move already carried out voluntarily by a raft of retailers.
But it is the crackdown on promotions which is seen by many in the food industry as the biggest threat, and a potential red line for suppliers, who have threatened legal action to try to stop it.

"I think there will be a sense of deep concern over these proposals, especially if they all go ahead at the same time in their strongest possible form," said Tim Rycroft, corporate affairs director of the FDF.

Another leading industry source said: "As predicted the government has returned to many of the areas in David Cameron's original obesity plan that were ditched by Theresa May back in 2016.

"What's not quite clear yet is just how draconian the final outcome will be. Ministers have said they will consult on just how far the ban on promotions should go. Should it be limited to the front of store, checkouts and aisle ends or across all promotions of HFSS foods?

"The good news is that there are consultations on a lot of this. If the government is serious about consultation then hopefully we can avoid the worst case scenarios. If it has basically already made its mind up and is just going through the motions, then we could end up with something very draconian indeed."

Food and drink industry leaders have vowed to fight any plan for a sweeping ban on promotions on HFSS food and have said such as much would "almost certainly" result in a legal challenge.

Sources suggested the outcome of the consultation could decide whether the industry took to the courts to try to stop the plans in their tracks.

Health secretary Jeremy Hunt said the proposals were part of a package of measures the government hoped would halve childhood obesity by 2030.

He said the government wanted to mitigate 'pester power' by preventing stores from displaying unhealthy food at checkouts or including it in bogofs.

The clampdown on advertising has long been predicted, but again the government stopped short of saying it would definitely extend the current advertising watershed.

Introducing today's proposals, Hunt said: "Parents want what is best for their children, but keeping them healthy and active can be difficult.

"It is near impossible to shield children from exposure to unhealthy foods. Parents are asking for help - we know that over three quarters of parents find offers for sugary sweets and snacks at checkouts annoying. It's our job to give power to parents to make healthier choices, and to make their life easier in doing so."

Professor Dame Sally Davies, chief medical officer for England, said: "This is a strong, robust and bold Chapter 2 which will help children live healthier lives and support parents across the country.

"This series of measures will undoubtedly help shift the balance towards a healthier environment."

The Scottish government is set to unveil its own proposals to tackle obesity in the next few days and is also expected to launch a sweeping consultation over HFSS promotions.

Health campaigners accused today's measures of being half-hearted.

"Whilst we welcome Chapter 2 of the government's childhood obesity plan, it clearly lacks firm commitment and only promises consultations by the end of the year," said Professor Graham MacGregor, chairman of Action on Sugar and Action on Salt.

"Why has this not already been done given the original plan was published two years ago?

"What's missing is a fully joined up action-based campaign which includes: uniform traffic light labels on out of home food rather than just calorie labelling; mandatory reformulation on sugar and calories; a tax on confectionery or unhealthy food with the opportunity to reformulate, and only healthy products (not high in fat, salt and sugar) being marketed across all platforms, including TV, digital and print. Simply consulting about the nation's biggest public health crisis is not going to save lives."

Ben Reynolds, deputy chief executive of food charity Sustain, said: "Our Children's Food Campaign has been calling for years for more restrictions on the increase of junk food marketing and promotion which has fuelled our child obesity crisis. We applaud the Government's ambition to halve child obesity by 2030, and to tackle health inequalities that mean that children from poorer backgrounds are twice as likely to suffer from poor health."