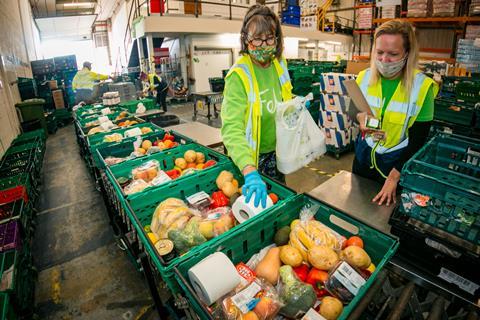 London's biggest surplus food redistribution group, The Felix Project, is scaling up its operations as demand continues to grow amid the cost of living crisis.
The organisation is expanding its Enfield warehouse site in north London with financial help from partner Ocado Retail, which is donating over £280,000 to the development.
The online retailer, which also provides surplus food to the group and recently funded five new electric vans and nine e-charging points in east London, is financing over 50% of the Enfield expansion with its contribution.
"We're extremely proud to work with The Felix Project – a fantastic charity working hard to reduce food waste while helping those in need," said Ocado Retail chief people officer Jonathan Wiseman.
"We look forward to continuing to support The Felix Project and working together in our shared goal to fight food poverty in the UK."
Ocado's donation is set to help with the installation of a new freezer and chiller system, as well as fund the installation of new e-charging points at the Enfield depot.
The move is set to allow The Felix Project to redistribute more food to local groups as requests from charities keep piling up – the north London site alone currently has 148 organisations on the waiting list.
The charity network expects to increase the amount of food it can redistribute in the area by 100 tonnes a month, to 300 tonnes, equating to 714,300 meals.
The Felix Project said there were now over 700 charities on its overall waiting list, and that every one of its charity partners was now requesting more food.
It expects to rescue and redistribute 13,000 tonnes of food – the equivalent to 40 million meals – this year alone from its four depots and nearly 50 vans.
Read more: Food distribution charities struggle to meet demand as cost of living crisis escalates
"Refurbing our Enfield depot will also increase our ability to rescue more good surplus supply from our partners, by accessing more deliveries via the M25 gateway," said director of operations Shane Dorset.
"The cost of living crisis is only set to put a greater strain on families and Londoners on low income, and we need to do as much as we can to help more people moving forward."
Head of community Rachel Ledwith said: "We have never seen such demand for food from our communities – every organisation we work with needs more food, even though we are delivering four times as much food as we were before the pandemic."
The announcement follows FareShare's decision last week to open a new distribution centre in Plymouth to help meet demand for surplus food across the south west, after a recent survey showed that 90% of the thousands of charities and community groups it supports have been affected by rising costs.
This was the network's latest addition to its 30 regional centres across the country, all of which have faced high levels of demand in recent months as the cost of living crisis intensifies for many households.
Similarly, Manchester-based The Bread & Butter Thing (TBBT) is planning to open 20 new hubs in the coming months, including four this month.
It comes as a recent report by The Food Foundation showed soaring food prices were leading to a "catastrophic" rise in the number of families cutting back on their grocery budgets or even going without eating.
The research showed around 7.3 million adults were now living in such food poverty, including 2.6 million children.
Food banks report that members are increasingly requesting products that do not need cooking as families struggle to afford energy bills.