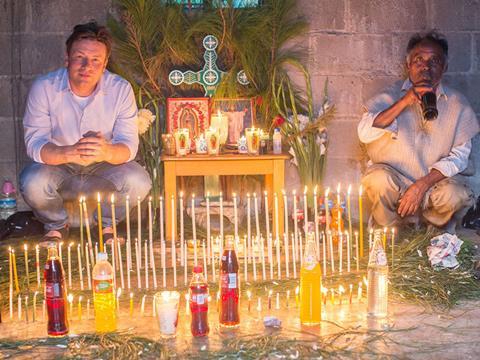 Celebrity chef Jamie Oliver claims talks with David Cameron have left him "utterly confident" the government is poised for a sugar tax u-turn.

Oliver told The Grocer he had been briefed on the government's forthcoming Childhood Obesity Strategy and said: "I think what's being talked about is looking very good."

The chef and former Sainsbury's front man has joined forces with anti-sugar campaigners, including Action on Sugar, the National Obesity Forum and Sustain, to launch a manifesto calling on the PM to slap a 20p per litre tax on all drinks with added sugar, equivalent to 7p on a 330ml can.

Jamie's Sugar Manifesto also urges the government to "legislate the Responsibility Deal" by scrapping voluntary pledges in favour of regulation, including sweeping new sugar reduction targets and fines. It also calls for sugar content to be labelled in teaspoons on the front of pack and traffic-light labelling to become compulsory.

Oliver has won backing from Professor Susan Jebb, head of the Responsibility Deal food network, who acted as scientific adviser to his C4 programme Jamie's Sugar Rush, which airs next Thursday. Featuring graphic footage of the impact of sugar on children's dental health, including a six-year-old boy having his teeth taken out in hospital after they were rotted by drinking too many fizzy drinks, and scenes of adults having their legs amputated because of type 2 diabetes, it attacks leading brands, especially Coca-Cola, which Oliver accuses of fuelling an obesity epidemic in Mexico (where a sugar tax has been introduced). Other brands in the firing line include Kellogg's, Heinz, Volvic and PepsiCo, with Oliver accusing them of loading seemingly healthy food with sugar.

He also claims it is "mental" for Tesco to sell crisps next to or near healthy checkout lanes.

The shock doc comes 10 years after his Jamie's School Dinners series, and he described it as "absolute war" on sugar.

Of the talks with Cameron he said: "We're approaching him not as a politician but as a father. I have said to him that the most important people he needs to concentrate on are those five to 11-year-old children who are growing up obese."

"He has five years and he's not standing again. This could be his legacy. I had similar conversations with Blair about school dinners when I said he'd been a bit wet."

However, Ian Wright, director general of the FDF, urged the PM to reject the manifesto. "It's up to parents to decide what kids watch and what they eat and it's certainly not up top self-appointed but ill-judged characters like Jamie Oliver. This manifesto would be a curtailment of freedom and personal responsibility. The world will have gone mad if we have a TV chef deciding health policy. What's next, would we have economic policy decided by Ian Beale?" "I'm sure there is a fully fledged campaign from the forces of darkness about to kick off," added Wright. "But this is a government which came in on the basis of supporting responsibility for individuals and on Britain being open for business.

"What sort of message will it send to investors in food companies to ban marketing and promotions and impose taxes on products?

"There is going to be a major public debate on the role of sugar in food and the industry will be happy and delighted and willing to help.

"But it's also about time the NHS got its finger out on dietary advice. It's a bit rich for them to be attacking the industry in the almost total absence of this sort of advice."

However, campaigners claimed Oliver's intervention could be a game changer.

Tam Fry, a spokesman for the National Obesity forum, said: "I have been doing this for 20 years and I've never seen anyone like Jamie Oliver for taking an issue and running with it.

"The Responsibility Deal has not worked and its time the food and drink industry was told to get its act together, compulsorily. The time is up, the chips are on the table."

"Having Jamie involved could have a huge impact," added Dr Aseem Malhotra, an adviser for Action on Sugar. "Getting political backing is crucial and he can play a key role in that."

"This feels like it is a pivotal moment," said Malcolm Clark, coordinator of the Children's Food Campaign for Sustain, which is hosting a petition on behalf of Oliver's manifesto on the Dowming Street website, and hopes it can force a parliamentary debate by getting more than 100,000 supporters.