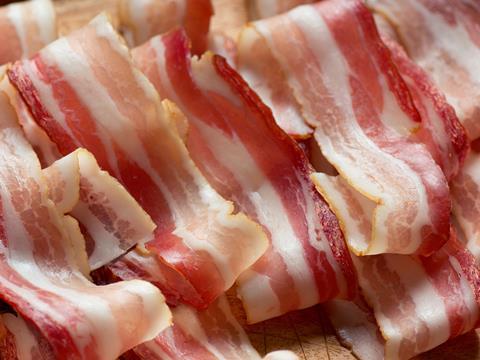 PHE has announced a major crackdown on salt levels in food.

The Department of Health body is proposing new targets which will demand some categories slash salt levels by more than 20% in the space of three years.

PHE said the proposals were not "set in stone" and it would begin negotiations on the voluntary scheme with industry and health charities, with discussions to include the technical challenges of reducing salt levels in everyday food.

Examples of PHE's targets include a call to lower the salt level in bacon products by a further 10% compared to the previous target for 2017, which was set in 2014. It is posing the same challenge for cheddar cheese and crisps.

The new figure for breakfast cereals is 20% lower than the previous one.

A government assessment of the 2017 salt reduction targets found just over half had been met by retailers, manufacturers and out-of-home businesses, with none of the targets specifically for meat products achieved.
Last month Action on Salt accused manufacturers of "pathetic progress" on salt reduction after a new survey found that in some cases two rashers of supermarket bacon were saltier than eight bags of crisps.

Of 171 bacon products collected from 10 UK supermarket chains, 86% had a salt concentration equal to or greater than seawater.

News of the new crackdown came at PHE's Cardiovascular Disease Conference (CVD) in London today (6 February).

PHE said the targets would significantly impact on CVD and help reduce pressure on the NHS.

"The UK food industry has led the world in gradually reducing salt in foods, resulting in huge amounts being taken out of the nation's diet, with people barely noticing any difference in the taste to their food," said PHE chief nutritionist Dr Alison Tedstone.

"Good progress has been made, but many of us are still eating too much salt including from everyday foods. The health risks can be devastating as too much salt can increase our risk of high blood pressure, leading to heart disease and stroke."

Over the past 13 years there have been four waves of voluntary salt reduction targets for foods, with consumption cut by 11% between 2006 and 2014.

Government recommendations say adults should eat no more than 6g salt per day. New figures on the nation's salt consumption are expected later this year.

Sonia Pombo, campaign manager for Action on Salt said: "We welcome the news that PHE has taken the next step in improving public health by tackling salt reduction, as promised in the Secretary of State's Prevention Green Paper last year.

"For too long the food industry has put their profits over the health of those less well off in our society and this cannot continue. Evidence shows that voluntary measures don't always work, so what is needed now is for the government to reignite a comprehensive salt reduction programme with mandatory targets for salt levels in products that all companies would be expected to meet and strict penalties/levies for those who fail to comply."