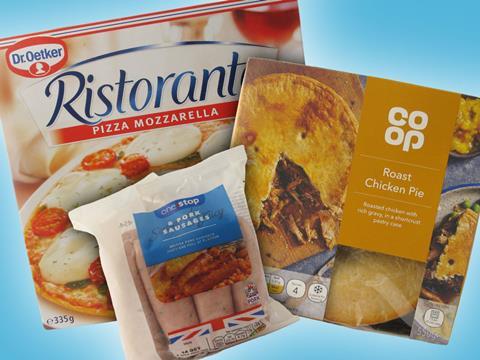 Pies, pizzas and sausages have been hit with "draconian" new calorie reduction targets by government health chiefs.

Under plans set out by Public Health England, a huge range of products, including popular meal deals, would have to either shrink or reformulate. Industry sources have warned the move would result in household favourite meals changing beyond recognition.

PHE met with companies and trade bodies this week to lay out detailed plans, after announcing in March it aimed to achieve a 20% reduction in calories in food by 2024.

Although the categories were chosen on the basis of being the highest contributors of calories to children's diets, the targets will have a sweeping impact across many categories. The plans are voluntary, but the government has warned it will revert to regulation unless companies hit the targets.

The Grocer understands that under the plans meal deals will be hit by a new cap of 600 combined calories for a drink, meal and snack combination.

It wants 75% of all pizzas to shrink to no more than of 210 calories per 100g, with a maximum calorie intake from one sitting of 1,032 calories. Currently none of the top 10 bestselling pizzas by volume hit the targets, meaning they would have to reformulate or shrink.
Pies will have to shrink to on average 234 calories per 100g, compared with the current average of 293.

Another British favourite, bangers, also face the chop, with a target to shrink meat products, including sausages, from an average of 243 to 194 calories per 100g.

Supplier sources warned the crackdown, which is set to result in final targets being set in the spring, had huge implications for many sectors in the industry. Many faced a dilemma over whether to reformulate and risk ruining sales, or face potential regulation, they said.

"This is draconian beyond belief," said one source. "It's messing with the products that people love and I'm sure there will be a huge backlash from the public.

"These are the sort of products, like pies, sausages and pizza, that the working-class people of Britain love to tuck into and they are not going to be able to."

Richard Harrow, a committee member of the Pizza, Pasta and Italian Food Association said PHE's crackdown was based on "flaky" data and risked wreaking havoc on suppliers that had already invested millions reformulating products to reduce salt.

"The Kantar data PHE is using is very good at top level but it is less reliable at SKU level," he said.

"If you look at pizzas they are basing this on 812 SKUs, of which they have only got robust data for 63% of them. That's a huge leap."

Harrow added: "PHE said that the top 10 volume pizza products ranged between 245-305 calories per 100g. So not one of them comes within the 210 target. On that basis alone I think its going to be a stretch."

"We understand that there is a moral imperative to try to tackle the obesity crisis but is this the right approach? If we end up just making pizzas smaller, what is to stop people just eating two?

"I got the impression that PHE is not in the mood for listening. PHE's attitude was 'this is the data and that's what we're going with'. I hope that I'm proved wrong and they are willing to listen to what we have to say.

"Our message is if obesity is now on a par with smoking for ill health and early death, as PHE said at this week's meeting, then we need to see efforts to reduce consumption in the same way that people were encouraged to stop smoking." PHE defended the proposals, which it said were still open to discussion but were vital to tackle the childhood obesity crisis.
PHE said it was particularly pleased with a big turnout from out-of-home organisations, which have infamously blanked previous discussions on sugar reduction.

OOH suppliers have in some cases been set different targets to retailers in the proposals.

For example, out-of-home pies at everything from roadside cafés to football grounds will have to cut down to an average of 200 calories per 100g, (current average 250) and meat products including sausages from an average of 213 calories to 170/100g.

"Ready meals, pizzas and savoury snacks are among the products included, as part of efforts to tackle childhood obesity," said Dr Alison Tedstone, chief nutritionist at PHE.

"While the causes of obesity are complex and many, excess calories are the root cause of unhealthy weight gain."

She added: "We've heard initial responses from a range of businesses and NGOs. Over the next few months, we expect further feedback to inform the development of the work on these categories, and PHE's door remains open for more discussions.

"It was encouraging to see many companies in the room, especially with the noticeable increase in engagement from the out-of-home sector."

PHE said guidance on how the food industry could achieve the 20% calorie reduction by 2024 would be published in spring 2019.