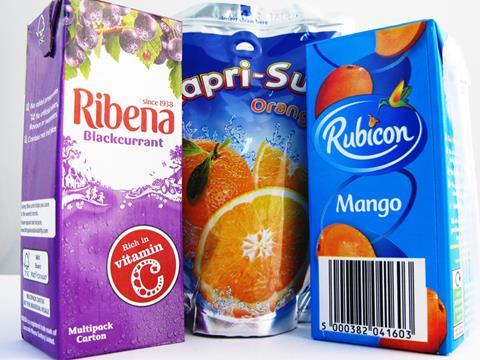 Tesco is to delist some of the biggest-selling children's drinks brands in the UK when kids go back to school this autumn as it ramps up the war on sugar, The Grocer can exclusively reveal.

Soft drinks buying manager David Beardmore said he would ditch a raft of added-sugar SKUs, including CCE's Capri-Sun and several variants of Suntory's Ribena as part of negotiations for a range overhaul of the kids' juice fixture being carried out under CEO Dave Lewis's so-called Project Reset, which will see up to a third of Tesco's overall store range culled.

Also on the list of products to be delisted are kids' lunchbox versions of AG Barr's added-sugar Rubicon juice drink, which like CCE's and Suntory's products have previously been marketed as suitable for school lunches, despite their high sugar content.
The axe will fall on 7 September, with the products either replaced by no-added sugar alternatives, or Tesco no-added-sugar own-label products, although it is believed there will also be an unspecified overall fall in SKUs.

The Grocer revealed in May 2014 that Beardmore had written to suppliers urging them to ditch added sugar from kids' soft drinks, as the first step of a broader strategy to cut sugar and artificial sweeteners from soft drinks lines across Tesco's range.

In May this year Tesco announced a three-year deal with Refresco Gerber to make a major investment in equipment at its UK hub in Bridgwater to improve the healthiness of its own-label range. In the same month The Grocer revealed Tesco's pledge of an ongoing 5% year-on-year reduction in sugar across its soft drinks range.

The latest move comes just a week after the government said it would act on the Scientific Advisory Committee on Nutrition (SACN) call for recommended sugar intake to be halved, in a bid to tackle obesity and diabetes.

Beardmore said the majority of suppliers understood Tesco's motivation.

"This is part of our 10-point plan against obesity and we have decided that from September we will only sell no added sugar drinks in the kids juice category," said Beardmore. "Most of the suppliers are supportive of it and understand what we're doing." He added that he could see no justification for sugar being added to products aimed at children, with Public Health England having last week urged all parents to stop given children any sugary soft drinks, on the back of the SACN findings.

Last year Capri-Sun was one of those "named and shamed" by campaign group Action on sugar for having five teaspoons of sugar in a 200ml product, or nearly a quarter of the daily recommended sugar intake for an adult, even before any change to the sugar intake recommendations by the DH.

CCE rolled out a no-added-sugar range to add to the brand in March with 0.8g of sugar per 100ml, compared with the 10.2g found in 100ml of regular Capri-Sun.

"We believe it is important to offer choice for parents, to meet the needs of different occasions for their children," said a spokeswoman for Lucozade Ribena Suntory. "We will have no-added-sugar flavours available in multipack cartons."

Sources had initially suggested Jucee-branded drinks would be also be affected by the range reset. However, brand owner Princes has since clarified this is not the case. Joanna Watling, Princes marketing director with responsibility for Jucee, said: "Jucee is 100% no added sugar across the entire range and has been since June 2015. Jucee has never had added sugar in its lunchbox ranges and the final products which became no added sugar in June 2015 were from the full-size squash range. We believe that the decision made by Tesco to reduce sugar in their soft drinks offering is particularly positive and we fully support their desire to reduce sugar in drinks."

CCE and AG Barr declined to comment.