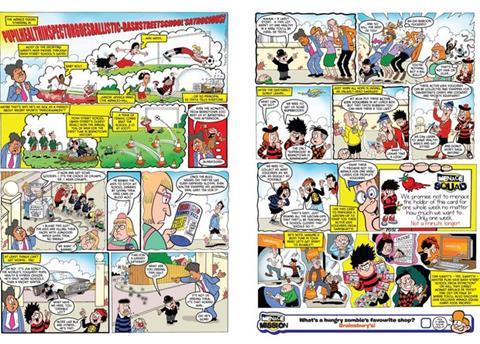 Sainsbury's has hauled in Dennis the Menace and the Bash Street Kids in an attempt to persuade children to lead healthier, more active lifestyles.
The supermarket group has joined forces with The Beano, one of Britain's best-loved comics to launch the 2015 Active Kids campaign which will give equipment and experiences to schools, clubs and groups.
The comic's 3,769th edition, which comes out tomorrow [Wednesday], will include a Dennis the Menace story in which Dennis and the gang realise that the reason they keep losing sporting challenges against their oldest rivals, the Posh Street pupils, is the rubbish food they are buying from a dodgy snack van lurking outside the school.
Dennis and the gang run around Beanotown gathering Sainsbury's Active Kids vouchers in a bid to change their fortunes and get fit for their looming sports day. Once collected, they exchange them for cooking and sporting equipment which helps them prepare and overcome Rupert Brightly-Smugg and his posh pals.
Tara Hewitt, head of Active Kids, said: "The Bash Street Kids, with their cheeky attitude and mischievous behaviour, are the perfect companions to show kids the benefits of what can be achieved by collecting vouchers, eating healthily and being active, now and in the future."
Vouchers will be available from until Tuesday 5 May from all Sainsbury's stores and online via the company website.