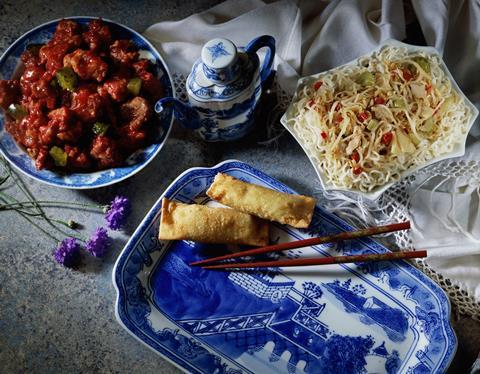 Health campaigners have called for Chinese meals sold by takeaways to carry health warnings, after a survey showed some contained as much salt as five Big Macs.

Action on Salt analysed the salt in takeaway meals purchased from six independent restaurants in London's Chinatown district.

It found 97% contained 2g of salt or more per dish, with more than half (58%) containing more than 3g of salt per dish - half an adult's maximum recommended daily intake in one portion alone.

The saltiest takeaway main with a rice/noodle side dish contained what it called a "staggering" 11.5g of salt.

The survey comes amid growing concern that out-of-home providers have failed to keep up with supermarkets in reformulation and calls from some in the industry for mandatory targets on takeaways.

AOS also surveyed 141 supermarket Chinese ready meals as part of its research. It found despite the UK's world-leading salt reduction programme, nearly half (43%) contained more than 1.5g/100g or 1.8g per portion) and would qualify for a red label on front of pack.

The saltiest Chinese dish was Slimming World's Chinese Style Banquet Rice, which had 4.4g of salt per 550g serving.

Next was Marks & Spencer's Crispy Sweet & Sour Chicken Banquet, with 4.13g salt per 500g pack, providing over two-thirds (69%) of an adult's maximum daily intake.

It also claimed there were "shocking" levels of salt in supermarket side dishes.

Iceland's Takeaway Egg Fried Rice contained 4.1g salt per 350g pack - more salt than 11 bags of ready salted crisps.

However, more than two-thirds of the ready meals in supermarkets would qualify for an amber or green label for salt.

Praised for being the least salty meal was Tesco's Vegetable Chow Mein (0.4g per 120g portion), followed by Sainsbury's Sweet & Sour Chicken (0.53g per 175g portion).

The research was carried out to mark Salt Awareness Week.

"Salt is the forgotten killer as it puts up our blood pressure, leading to tens of thousands of unnecessary strokes, heart failure and heart attacks every year. Reducing salt is the most cost-effective measure to reduce the number of people dying or suffering from strokes or heart disease. We are now calling on PHE to take immediate action," said AOS chairman professor Graham MacGregor.