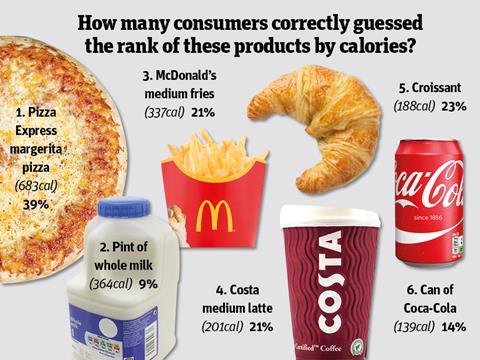 Eighty-three per cent of consumers are flummoxed by nutritional advice on fats, according to a survey for The Grocer. That compares with 62% who admit to being baffled by guidance on sugar.

More than 2,000 people were polled by Harris Interactive. Some 34% said they were "very confused" on how much fat they should include in their diet, with 49% a "little confused". Only 3% correctly identified that the NHS recommends adults should consume 70g of fat per day.

"Not only are they missing the mark when it comes to knowing the recommended fat intake for a day, but they're acknowledging that they're not really sure of the difference between different types of fat in foods," said Tania Page, senior associate director at Harris. Some 91% admitted they didn't understand the difference between saturated, unsaturated and trans fats.

"Even the experts are confused about fat," said Tam Fry, spokesman for the National Obesity Forum. "And if they are confused, God help the rest of the world."

The confusion follows widespread media coverage of major scientific reports questioning the science behind low-fat diets. The studies found no evidence of a link between heart disease and satfats.

This coverage was partly responsible for the confusion, said Helena Gibson, nutrition scientist at the British Nutrition Forum.

"Nutrition, unlike particle physics, perhaps, is a popular science that attracts sometimes sensational headlines," she said. "Yet scientific issues are typically complex."

As a result, SACN has launched a new working group dedicated to analysing the latest research, with its findings expected to be published in 2017. Fry is hopeful this could clear up some of the confusion. "The sooner it comes out with its recommendation the better," he added.

An FDF spokeswoman said "whilst the development of healthy eating advice is clearly the remit of government and nutrition bodies", the industry did have a role to play in clarifying guidance. "We believe education on appropriate portion sizes and frequency of consumption is needed to help individuals to make informed, healthy choices."

Director general Ian Wright also questioned why a new app launched by Public Health England this week, which enables consumers to scan the barcode of products to reveal the amount of sugar contained in both cubes and grams, did not extend to fat content to help clear up misunderstanding.

Aldi, Asda, The Co-operative Food, Morrisons and Tesco have all backed the app, which seeks to educate consumers on sugar levels in everyday foods. "The idea of an app is a good one but it doesn't tell you about fat or other nutrients and I think that's a missed opportunity and causes the potential for consumer confusion," he told The Grocer.