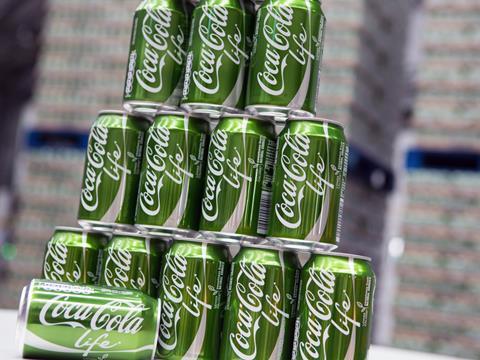 Embattled soft drinks makers this week released new figures showing they are leading the way on efforts to reduce sugar, as they try to fight off growing calls for a sugar tax.
Figures compiled by Kantar Worldpanel for the British Soft Drinks Association (BSDA) show although volume sales of soft drinks have increased since 2011, the sector's contribution to consumers' sugar intake over the same period has fallen significantly.
In September 2011, soft drinks accounted for 10.1% of take-home sugar intake, but this was down to 8.8% in September this year - a reduction of 10.6%.
Meanwhile, the contribution from confectionery increased by 9% over the period, with biscuits (+7.4%) and bread and morning goods (+8.6%) also showing big increases.
There is widespread speculation that parliament's health committee will call for a tax on sugary soft drinks when it reports on its childhood obesity inquiry on Monday (30 November). But the BSDA said the results of the research showed it would be "absurd" for the government to single out soft drinks. "The data shows just how much sugar in soft drinks has come down comparative to other sectors thanks to reformulation," said BSDA director general Gavin Partington. "If policymakers are advocating a tax in this area there is no reason why it should single out soft drinks: a tax would need to be applied across all sectors."
Soft drinks suppliers have announced a number of high-profile sugar reduction initiatives in recent months, and this is reflected in the Kantar data: it shows the fall in sugar contribution from soft drinks has sped up considerably in the past year, with a 5.9% year-on-year reduction in sugar sourced from soft drinks and a 6.4% reduction in calories.