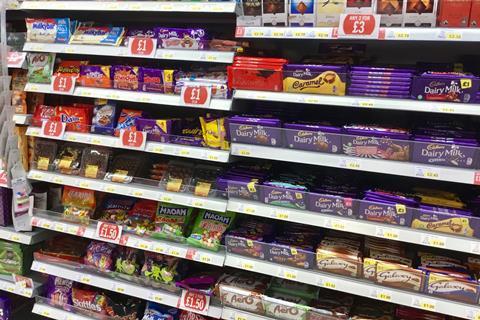 The impact of the government's ban on aisle-end and front-of-store promotions will cost companies £1.7bn a year just from the restrictions on products high in sugar, according to exclusive new figures.
Statistical modelling by IRI, shown to The Grocer, reveals the looming ban will cost one leading confectionery brand alone £12m a year.
IRI said the impact of the proposals was so massive it would hit revenue in a way companies have not seen before.
The company's modelling looked at the incremental impact on sales from products classified as high in sugar, from promotions on gondola ends, front-of-store and standalone in-aisle promotions.
It found companies' sales volumes saw uplifts of between 8% and 25%, directly driven by such high-profile displays.
The government has said it would band both volume promotions such as bogofs as well as location-based promotions in store, as part of its latest moves to tackle the obesity crisis.
Read more:
But IRI, which has launched a modeling programme to help companies calculate the impact of the ban, said the costs to individual companies were only just starting to be realised.
Modelling for one major confectionery company showed that 18% of its sales were driven by incremental promotions which if they were removed meant the manufacturer would lose up to 2.14m kgs of sales year on year , the equivalent of around £12m.
"Our modelling covers a whole range of products and brands that promote products high in sugar," said Tom Hall, director of analytics at IRI.
"This is just the sugar element of the proposals so the overall impact of the ban, which also includes products high in salt or fat, will be much higher.
"From speaking to companies in this research, it is clear they are all very worried. Most companies have set up taskforces to try to manage their response. The magnitude of these proposals will have an impact bigger than anything they have seen before."
The Grocer has revealed the promotions ban will affect all biscuits, cakes, chocolate and confectionery – even low-sugar and low-fat varieties, including Cadbury's new 30% less sugar Dairy Milk Bar, Belvita biscuits and Maynards Bassetts Wine Gums. Other products affected include a range of soft drinks that were reformulated under the government's flagship soft drinks sugar levy.