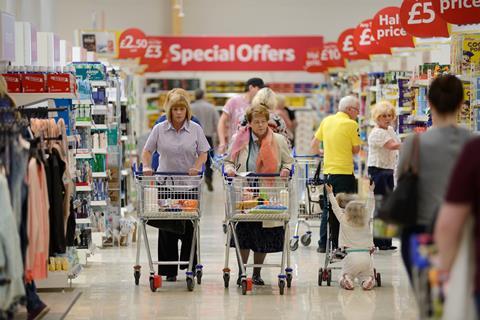 Tesco has announced it will go ahead with axing volume promotions on HFSS products from October, regardless of the rowback by ministers on the proposals.
The supermarket said research among its customers showed the vast majority wanted to eat more healthily and wanted help from supermarkets to do so.
The move, which will pile pressure on rival supermarkets to make a similar commitment, comes after Tesco recently pledged to ensure 65% of its sales came from healthy products by 2025, after pressure from investors' campaign group ShareAction.
At the weekend the government announced it was delaying the ban on HFSS volume promotions for a year, along with proposals on junk food advertising.
Tesco said its commitment was part of its wider aim to support customers to lead healthier and more sustainable lives. It pointed to its move to reformulate all its own label soft drinks ahead of the soft drinks levy coming into force in 2018 as an example of how it was leading the industry in tackling the obesity crisis.
It said it would work closely with suppliers to make the changes.
Earlier this week Tesco launched Better Baskets, a campaign designed to help customers shop a healthier and more sustainable basket, without compromising on price.
Figures complied for The Grocer from IRI show volume promotions at retailers would account for only 5% of the overall impact on sales of the original proposals, with the government having said it will go ahead with the location restrictions in October.
"Our mission is to make Tesco the easiest place to shop for a healthy, more sustainable basket – while keeping the cost of the weekly shop in check," said Tesco UK & ROI CEO Jason Tarry.
"It's vital we keep making the right calls on behalf of customers and communities. Customers are telling us they want to eat a more healthy, sustainable diet, but without having to stretch the weekly shopping budget. We agree and, thanks to our laser-focus on great value, customers won't need to make that compromise at Tesco. "
Tesco chief customer officer Alessandra Bellini added: "Obesity levels are rising among adults and children and the health of our nation must also be at the top of our agenda."
Sainsbury's said it was also commited to following the orginal timeline and had phased out multibuy offers in 2016 in favour of "regular low prices".
"We know our customers in communities across the country are a facing a cost of living crisis and want to continue to provide healthy, nutritious food for their families," said chief marketing officer Mark Given.
"Sainsbury's is dedicated to making healthy choices more affordable and over the last year nearly 60% of our promotions were on healthier or better for you choices.
"We are committed to continuing to follow the government's original HFSS promotional timelines and call on the rest of the industry to do the same."