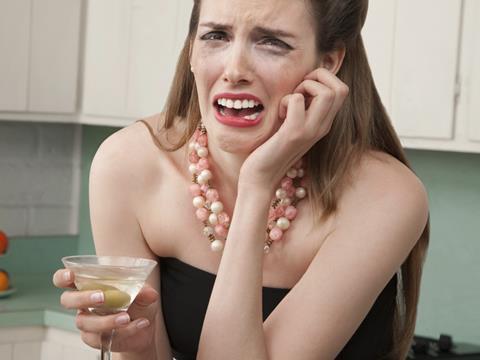 Us Brits, eh? When we're not boozing ourselves insensible, we're stuffing ourselves with sugary snacks and drinks until we can't see straight.
Well, that's the popular view of us around the globe, at least. But it's not entirely accurate. The new Perils of Perception report from Ipsos MORI today shows that people in 35 countries – including the UK itself – put us as the second most sweet-toothed on the planet (behind the US). And we're the fourth most sloshed, supposedly.
However, the truth is Brits are a little less gluttonous than that. We each consume an average of 93g of sugar every day, placing us in sixth place – which is also where we sit in terms of alcohol intake (11 litres per capita per annum). It's something we don't even know about ourselves: 73% of Britons incorrectly believe the UK is in the top three sugar-loving nations, Ipsos MORI found, while 60% erroneously put us among the leading trio of boozers.
Our intake is almost certainly cause for concern by health professionals and campaigners, but it's being somewhat misrepresented. Why? Well, suggests the research organisation's MD Bobby Duffy, it's most likely down to the global generalisation that Brits have a poor diet along with a deep fascination with the planet's most pro-sugar nation, the US. This, says Duffy, is "a not-great combination of being the sick man of Europe and the 51st state of America". (Belgians drink the most, by the way.)
What, then, are the implications of the planet's – and, indeed, our own – misperceptions about British sugar and alcohol consumption? One danger is they could be self-fulfilling. "If we think over-consumption is the norm, we're more likely to copy that behaviour," Ipsos tells The Grocer. People have a tendency to follow the herd. "So us thinking that we are a top consumer of sugar means we are more likely to consume more sugar."
It also means brands will come under increased pressure to commit to reformulation, clearer labelling and more transparent marketing, Ipsos adds.
Until then, especially as we tuck in to the cakes and wine over the Christmas holiday, we'd do ourselves a favour to bear in mind that indulgence is an exception, not the norm.