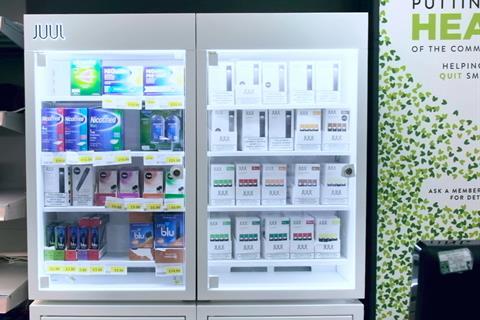 Thornton's Budgens has teamed up with vape giant Juul to offer smokers a drop-in service to help them switch from tobacco.

The Belsize Park store operates the surgery-style service in a 7,000 sq ft cordoned-off area every Thursday afternoon.

A Juul employee offers information and support on making the switch and informs smokers about the range of alternative products available, including Juul.

Customers are offered discounted Juul starter kits and coached by Juul Labs' head of switching Sairah Salim-Sartoni and her team.

"I am delighted to be the first convenience retailer to offer an in-store switching service for my smoking customers," said Thornton's Budgens owner Andrew Thornton.

"Initial feedback from my team members switching to Juul has shown me how effective the brand can be in helping transition smokers away from tobacco.

"As a community retailer, there is no better service I can offer my customers than improving their lives and the lives of those around them."

Juul Labs head of field sales Steve Lintott said the measure had prompted a four-fold increase in vape sales at the store since its introduction in July, primarily driven by Juul sales.

"This is a great example of how Juul is looking to work in partnership with forward-thinking retailers to grow overall category sales rather than just be another vape supplier," he said.