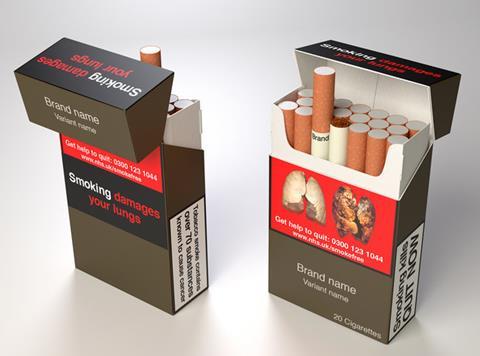 The tobacco industry is reeling after the government confirmed it would set regulations for standardised tobacco packaging before the General Election.
Jane Ellison, public health minister, said the policy was "a proportionate and justified response to the considerable public health harm from smoking tobacco."
"I now propose that we lay regulations for standardised packaging in this parliament to allow for them to come into force at the same time as the European Tobacco Products Directive in May 2016." In doing so, the government would be bringing the prospect of the first smoke-free generation one step closer, Ellison said.
Simon Clark, director of Forest, which runs the Hands Off Our Packs campaign, said the government was taking "a huge risk". No evidence existed to show plain packaging reduced smoking rates but there was evidence it increased illicit trade. "This decision has nothing to do with health. It's politics, pure and simple," he said.
James Lowman, chief executive of the Association of Convenience Stores, told The Grocer: "We are very disappointed particularly because the display ban is coming in in April and rather than look at that impact and other options, bringing in these two things together will be difficult for retailers and the public health impact is not convincingly proven. The impact on retailers are increased service times, it will be harder to find packs quickly, there will be queues."
Lowman also feared it might support the black market where people who wanted to be able to get brands would only get them on black market and packs might be easier to counterfeit because they were less distinct.
Deborah Arnott, chief executive of health charity Ash, said she was delighted the government had resisted tobacco industry pressure.
"Standard packs are backed by the public, health professionals and an overwhelming majority of MPS. They have the potential to save many thousands of lives. We won't be taking anything for granted in the run-up to the final vote, but we think that the great majority of MPs and peers will vote for the regulations," she said.