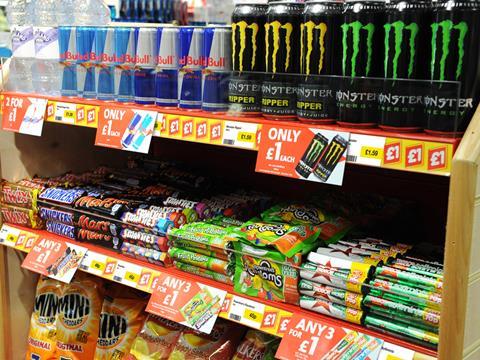 Supermarkets have been accused of bombarding consumers with promotions on food laden with sugar and other unhealthy ingredients.

Research by consumer group Which? claimed the majority of promotional activity revolved around unhealthy products such as fizzy soft drinks, rather than those such as fruit & veg.

Which? analysed data collected by mySupermarket across the major supermarkets from April to June this year.

It said that of the 77,165 promotions where nutritional data was available, more than half (53%) were on less healthy foods compared with healthier products (47%).

Which? found that more than half (52%) of confectionery was on offer, compared with only about a third of fresh fruit and vegetables (30% and 34% respectively). Seven in 10 (69%) soft drinks that would fall under the higher sugar band category (more than 8% sugar) of the government's proposed sugar tax were also on promotion.

In a separate survey, Which? found a 29% of shoppers said they found it difficult to eat healthily as they think healthier food is more expensive than less healthy food.

Half (51%) wanted supermarkets to include more healthy choices in promotions to make it easier for people to choose healthier food.

"Everybody has to play their part in the fight against obesity and people want supermarkets to offer more promotions on healthier foods and yet our research found the opposite," said Which? director of campaigns and policy Alex Neill.

"It's time for supermarkets to shift the balance of products they include in price promotions and for all retailers to get rid of temptation at the till by taking sweets off the checkout."

However, the BRC said the Which? report only served to highlight that supermarkets offered good value across the whole range of food and said price competition had never been fiercer in the UK.

"Supermarkets offer great value in all the products they sell and it has never been easier or more affordable to choose a balanced diet," said BRC director of food Andrew Opie.