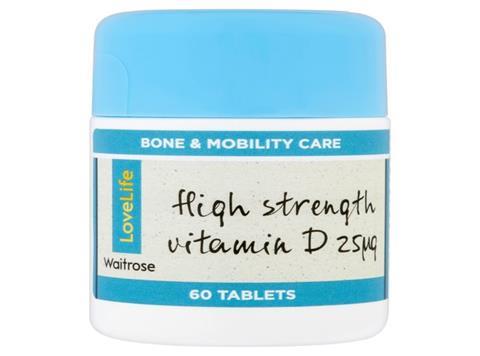 Growing concern over bone health issues such as rickets has led to a spike in sales of vitamin D supplements, The Grocer can reveal.

Sales jumped by a third to £7m, making vitamin D the fastest-growing supplement in the vitamins & minerals sector [Kantar Worldpanel 52 w/e 29 January 2017].

The spike follows Public Health England's warning last July that one in five Brits have insufficient levels of vitamin D, putting them at greater risk of rickets and osteomalacia. And a report from the British Medical Journal in February 2017 provided a further boost, finding that vitamin D prevents colds and flu.
"The sector has benefited significantly from the PHE study's suggestion that the nation doesn't get enough vitamin D," said Kantar analyst Christopher Evans. "This has prompted an additional 370k shoppers to buy this year."

Holland & Barrett has been a key beneficiary, with sector head Lisa Sinclair reporting growth of 67% over the past year. "It's always been a good seller, but we're limited in what we can put on packaging due to EFSA claims restrictions," she said. "The PHE report highlighted the issue of vitamin D deficiency and the benefits of taking of vitamin D in the winter."

NPD has also driven growth. H&B's range now includes spray formats and a vegan vitamin D pill derived from mushrooms.

Brands are also cashing in. Vitabiotics Ultra Vit D had become "the fastest-selling vitamin D single supplement product in the marketplace driven by consumer demand in light of the PHE recommendation", said Vitabiotics brand marketing manager Susanne Bisinotto.

Vitamin D had been "well documented in the news", added Jonathan Evans, MD of Health & Wellbeing Brands, which will launch Seven Days Vitamin D Spray next month.