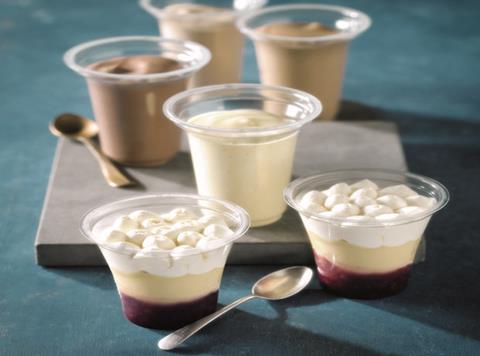 Waitrose has put desserts next on its hit list for sugar reduction with a year-long reformulation programme.
Over the past year, Waitrose has reformulated its chilled dessert range to cut sugar levels by an average of 14%.
The reformulation comes after Public Health England set out ambitious sugar reduction targets in March, calling for a 20% reduction in nine categories including puddings by 2020.
The voluntary targets will also take into account actual sugar levels. For puddings, it recommends no more than 15.1g sugar content per 100g.
Waitrose's revamped range of 15 mid-tier chilled desserts, which were "carefully developed" by a team of chefs to avoid compromising on taste, largely meet these requierments.
The Waitrose mixed berry trifle, for example, has 13.5g of sugar per 100g and the lemon mousse has 11.7g.
The revamped desserts form part of Waitrose's wider work to meet PHE targets, which has seen it reduce sugar across cereals, chilled juices, yogurts, soups, cordials and fizzy drinks. Last November, Waitrose announced it had reduced sugar content in its cereals by up to 30%.
Emma Williams, a senior nutritionist at Waitrose, said: "We all like a sweet treat now and then but it's important to keep an eye on your sugar intake. We've been working hard to ensure our shoppers can make lower sugar choices when enjoying desserts, without compromising on taste or quality.
"Sugar reduction is a key part of our overall approach to making continuous nutritional improvements to the food and drink we sell."