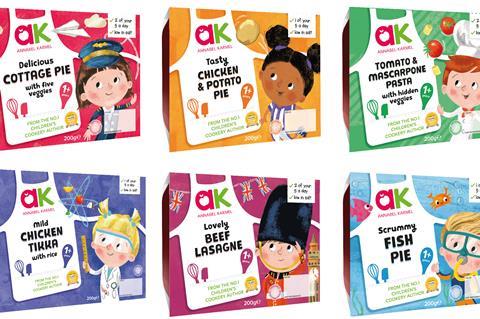 Annabel Karmel is to relaunch its chilled ready meals, just months after the baby & toddler food maker was forced to switch suppliers due to a legal spat involving a rival brand.
Six variants including Delicious Cottage Pie with Five Veggies, Mild Chicken Tikka with Rice, and Tomato & Mascarpone Pasta with Hidden Veggies will roll out from 26 August across Sainsbury's, Tesco and Ocado. They feature improved recipes and revamped packaging.
The low-salt options, which count as up to two of a child's 5 a day, had a new design with the theme of "feeding imaginations" said Annabel Karmel. It included "a lineup of playful little professionals" – cartoon characters including a scientist, a pilot, a chef and a deep-sea diver. The meals also came in a deeper tray "for maximum shelf impact" added the brand.
Its founder, children's cookery author Annabel Karmel, said parents wanted "reassurance when they are buying a pre-prepared meal, so it's important that my range is loved by even the fussiest of eaters".
The overhauled ready meals are made for the Annabel Karmel brand by North Yorkshire's Pro-Pak Foods (part of Denmark's Tican Group). They were previously manufactured by Brooksby Foods of Melton Mowbray.
An exclusivity agreement between chilled babyfood maker Little Dish and Brooksby owner Samworth Brothers obliged the Leicestershire manufacturer to give notice in November to Annabel Karmel.
Negotiations between Annabel Karmel and Samworth led to the exit deadline being extended from June to August. In response, Little Dish made an injunction application against Samworth to prevent it from producing for Annabel Karmel during the notice period.
Proceedings in the High Court came to a halt when Little Dish withdrew the application, saying the matter had been "settled amicably".
This provided Annabel Karmel "with time to transition smoothly from Brooksby Foods to Pro-Pak" it said.