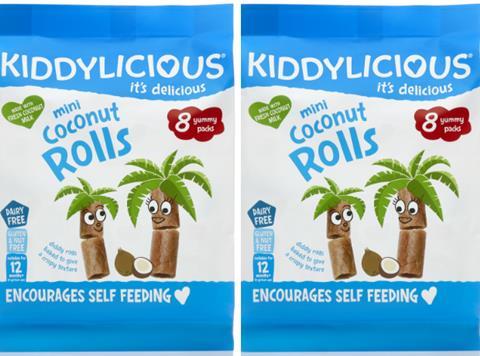 Kiddylicious is to make its debut in two international markets, rolling its baby snacks into South Africa and Central American retailers.
The business has secured listings in South Africa for seven SKUs in Baby City, one of the country's biggest suppliers of baby essentials, and for eight lines in Clicks, a leading pharmacy, health & beauty retailer.
Clicks has a national exclusive to sell Kiddylicious Veggie Straws, which in the UK held "the number one position in the baby and toddler snacking category" according to the Buckinghamshire brand.
Rollout to both South African retailers began this week via a local distributor, with other products including Wafers, Fruit Wriggles and Mini Coconut Rolls.
Kiddylicious is also preparing for an August introduction of 15 SKUs to Costa Rica, El Salvador, Honduras, Guatemala and Nicaragua, after being approached by Walmart de México y Centroamérica.
The baby snacking brand would be "the first to offer anything other than traditional rusks or puffs in Central America" it said. It will ship its products directly to Walmart.
Kiddylicious expects the new markets to take its global retail sales to just under £50m. The business trades in 27 other countries, including Norway, Australia and South Korea. Earlier this year, it signed a lucrative contract with Chinese e-tailer Tmall (a subsidiary of Alibaba).
"We are hugely proud of the growth in our international sales over the past few years," said Neil Mather, Kiddylicious commercial director. The success was down to the brand's healthy eating credentials, portion-control packs and "snacking options that are new, exciting and often transform the category" he added.
Kiddylicious saw its value sales surge by 68.3% last year to £14.8m [IRI 52 w/e 2 December 2017], after making its first foray into wet food with Little Bistro ambient ready meals.