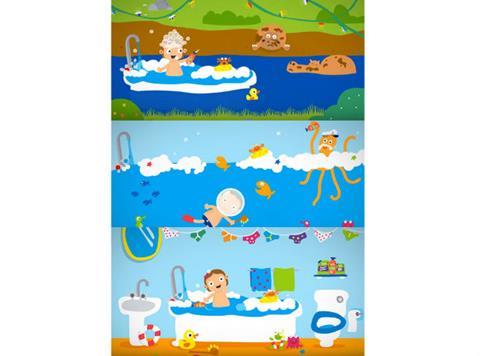 Paddy's Bathroom, the latest venture from Ella's Kitchen founder Paul Lindley, is promoting its organic toiletries for kids in its first TV advert.

The 30-second cartoon commercial is airing throughout the day on children's channels Nick Jr and Nick Jr Too, along with a sponsorship of Peppa Pig's early evening slot.

The ad sees three young characters taking turns at imagining fun wash-time scenarios, including bathing with hippos and deep sea diving with an octopus. The voiceover, provided by Lindley himself, explains how "gentle products fill bath-time with bubbly fun, scrummy smells and imagination".

Launched in 2015, the Paddy's Bathroom line-up - available from Asda, Ocado, Boot's and Superdrug - comprises seven organic products aimed at babies, toddlers and preschool children, and includes Bubbly Stuff (rsp: £5.99/400ml), Stuff for Shiny Hair Shampoo (rsp: £4.49/250ml), and Stuff for Hands (rsp: £4.49/200ml).

"Our aim is to make bath-time a fun and gentle experience for both for toddlers and their parents, and we are confident that our first TV ad for Paddy's Bathroom will bring that philosophy to life, driving sales of our exciting range," Lindley told The Grocer.